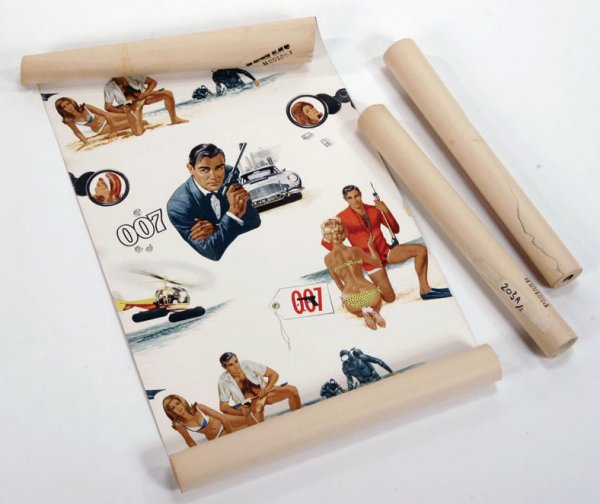 I'd flagged this eBay listing for posting, and then I totally missed it in the whirlwind of family that descended on us over the weekend: five rolls of Thunderball wallpaper, circa 1965, were sold on Saturday as part of a large movie memorabilia collection.
Each roll is 20 1/2-in. wide, which makes the pattern repeat look to be about 36-40 inches. Honestly, I can't imagine why James Bond wallpaper ever existed, much less what you'd do with five rolls of it; it looks like a PITA to match.
Of course, once you have the idea, you could probably do better by printing it up yourself. And what could be nicer than for Mr. O'Toole to design a custom Bond wallpaper for his daughter Plenty's nursery? As long as it comes in under $276/roll, you'll still beat the auction price, too.
Three Rolls of James Bond Thunderball Wallpaper, sold for $550+20% premium [ebay live/guernsey's]
Two Rolls of James Bond Thunderball Wallpaper, sold for $600+20% premium