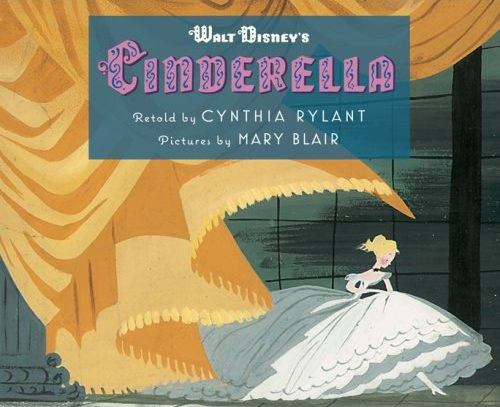 Our approach to thwarting the Disney Princess Industrial Complex is simple. I think. Oh, who'm I fooling? They're complicated and doomed to failure as soon as the kid has a sleepover party, but whatryagonnado? Here's the plan:

The movies are fine; we'll let those come as they may.

No character clothes, toys, or merchandise.

Except for that Golden Books version of Snow White that someone gave us, no books.

Disney's version will not be the only or definitive version of the story.

That last tactic feels like our secret weapon. One criticism of Disney is that they've overwhelmed and appropriated stories they didn't invent. Rather than declare a fatwa on all things Disney--I did used to work for the company, way back in the day--we'd rather just expand the variations and stories the kid's familiar with.

The kid's only movie so far is Cinderella, so in addition to the Disney version, she has a book, an Art Deco-style retelling by author/illustrator Lynn Roberts. From the library, we checked out a truly ridiculous, 1985 version introduced by Shelly Duvall starring Jennifer Beals, Matthew Broderick, the governor from Benson, and the principal from Grease, Eve Arden. [She's watching it right now, in fact. Jean Stapleton can't figure out if her Fairy Godmother accent is from 'Bama, the Bronx or Brighton.]

So what does Disney go and do? They publish a different version of Cinderella themselves. And who'd they get to do it? Mary Freakin' Blair.

That's right. Mary Blair. Turns out she did concept paintings as part of the movie animation process, some of which were published in John Canemaker's 2003 monograph, The Art and Flair of Mary Blair. [This stepsisters image was apparently not included in Amid Amidi's great survey of 50's animation, Cartoon Modern. Not sure if it was in Canemaker, or if it's in this one.]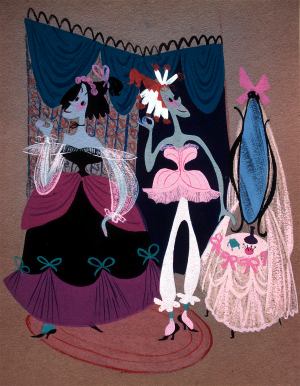 Disney combined the paintings that were in private hands with the works in their archive, and then commissioned Newberry Medal-winning author Cynthia Rylant to write the story.
Blair and Rylant's Cinderella hits stores this week. It'll be followed up by Blair versions of Alice in Wonderland and Peter Pan. I have to say, I'm kind of psyched to see this. But get back to me if you see a Mary Blair Cinderella backpack and Trapper Keeper at Target.

Buy Cinderella by Mary Blair at Amazon. [amazon]
puffy backstory: A Riches-to-Riches Story [publishersweekly via dt reader marjorie]
"and much, much more!" update; So it's not listed on the box anywhere, but the bonus disc of this Cinderella DVD , there's a 15-min segment, "The Art of Mary Blair". It's pretty fluffy, but interesting, and great to look at. There are some Blair paintings in the deleted scenes sections, illustrating a couple of songs that I'm not really missing, frankly.