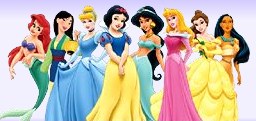 Too bad for Peggy Orenstein that her looong lament about third-wave feminism's powerlessness and lack of viable response in the face of the Princess Hegemony came out the same day American girls were opening their $3 billion worth of pink & purple sparkly plastic junk. Still, it's a fascinating read, and includes some nice backstage info from Disney Consumer Products about how the Princess thing came about, how it's managed--did you know the princess characters are never depicted making eye contact with each other?--and how Tinkerbell will be the next great threat/opportunity.
Me, I can never get over the fact that until the 1930's at least, pink and blue were reversed:
When colors were first introduced to the nursery in the early part of the 20th century, pink was considered the more masculine hue, a pastel version of red. Blue, with its intimations of the Virgin Mary, constancy and faithfulness, was thought to be dainty. Why or when that switched is not clear, but as late as the 1930s a significant percentage of adults in one national survey held to that split. Perhaps that's why so many early Disney heroines — Cinderella, Sleeping Beauty, Wendy, Alice-in-Wonderland — are swathed in varying shades of azure. (Purple, incidentally, may be the next color to swap teams: once the realm of kings and N.F.L. players, it is fast becoming the bolder girl's version of pink.)
What's Wrong With Cinderella?
[nytmag]