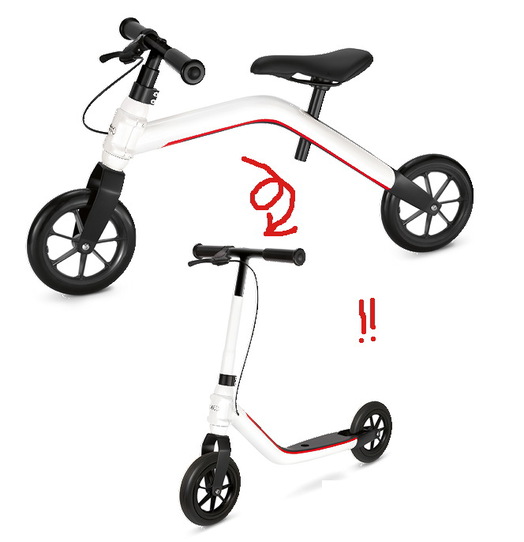 Hey ho, look at this Audi-branded walking bike that also turns into a scooter when you flip it over!
The Audi Mini Runner is made of tubular "aluminium" using "a special 'hydroforming' process," the same process used to create the engine cradle for the Pontiak Aztek. And bicycles.
Doubling the usable lifespan of the balance bike is important, because it costs almost £300, which is slightly nuts, whereas £300 for just a bike would be totally nuts.
And while it does look £200 nicer than the leading balance bike/scooter combination, the Austrian HIGHWAYFREAK Scoot-and-Ride, I don't know that it actually works any better. Or any worse, frankly. These all seem a bit compromised to me. I think we need a junket showdown.
Or someone can find the mfr bootlegging on alibaba and blow this Teutonic markup racket wide open.
Audi mini runner, white, £279.00, at Audi UK or your local UK Audi dealer [audi.co.uk]
gizmodo via dt reader rolf]
Scoot And Ride 2-in-1 scooter/push bike, 99,90 € [scootandride.com]
Related from GizMag 2008, Dutch designer Neils Smeltink's Kid Balance [gizmag]