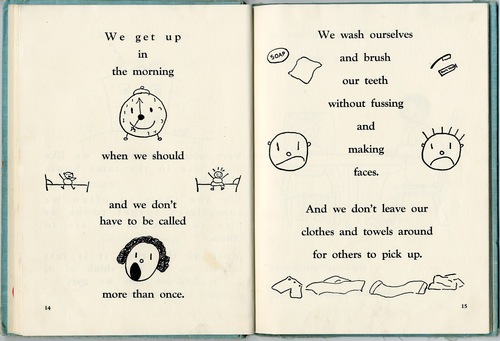 If the only thing you know about Munro Leaf is that he wrote Ferdinand The Bull, oh brother, are you missing out.
Over at Stopping Off Place Michael posted some spreads from one of the amazing books Leaf wrote and illustrated--all by himself, if you can believe it: Manners Can Be Fun, which was published in 1936, the same year as Ferdinand.
Which is the inaugural title in what would become the ____ Can Be Fun books, a series which I will guess Leaf rode to the bank after the awesome parenting satire Safety Can Be Fun (1938). Not that Metric Can Be Fun doesn't have its charms.
So this is what we do... [stoppingoffplace]
There are lots of vintage copies of Munro Leaf's Can Be Fun books out there [amazon]
Previously: Safety Can Be Fun Can Be Beautiful