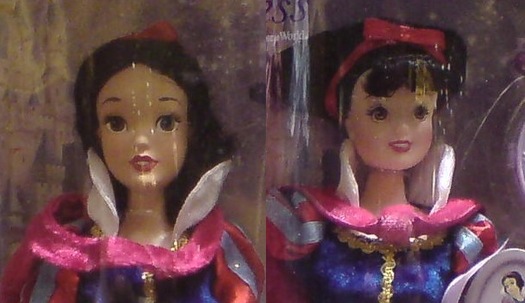 So here's one thing I did not know before going on a Disney Cruise: the dolls are different for Europe.
In the store on the boat--which, rather incredibly, felt like it was hardly open, mostly because they kept it closed throughout the days we were docked in Nassau and Disney's little private Bahamian island---there was an entire Princess Boutique. And in many cases, like with these Barbie-sized collector dolls seen here, there were two nearly identical versions.
Disney tweaks the face design and the random doll accessory items to appeal to different geographic markets. The one on the right is the NAFTA version of Snow White, and the one on the left is the Euro version of Snow White. Who's called Blanche Neige. Cinderella's Cinderella, except they call her le Cinderella.