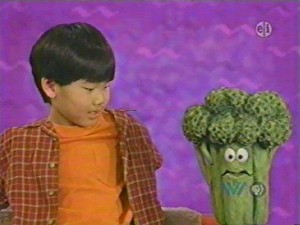 Maybe it's the lines of pollen she snorts off the edge of her crib every morning, but K2 has been having a rough time with itching and snot the last couple of weeks. So while we were at the pediatrician yesterday, waiting and waiting, I ended up reading the propaganda poster from Big Calcium over and over with her. Yeah, milk was on there, or at least milk/yogurt/cheese, all grouped together. Also orbiting the calcium sun: calcium-fortified pudding, calcium-fortified frozen yogurt, calcium-fortified breakfast cereal, calcium-fortified American cheese slice, pizza, and broccoli. Three cups of broccoli provides 300mg of calcium, which is about half the USRDA for a kid 0-2yo, and about 1/3 the allowance for a 3-5yo. Three cups. Who the hell is going to get a kid that age to eat three cups of broccoli a day?
I shouldn't have asked.
In late 2005, Sesame Workshop received a $73,000 grant from the Dr. Robert C. Atkins Foundation to expand an existing research study entitled, "The Effectiveness of Characters on Children's Food Choices," aka "The Elmo/Broccoli Study."
The follow-on study is/was about the impact of food-related storylines on kids' eating habits. [Sensitivity to modeling behavior date back at least to 1998; that's when, after 23 years of banging his head on the piano, CTW dropped segments of the floppy-haired composer Don Music from the show.] I'm sure it's already happened, and I'm sure it's already reined in Cookie Monster's binge eating habit. But let's get to that later.
What is unexectedly revealing is the finding of the original study, which highlights the power characters have over kids fragile little minds. Then it underscores it, puts it in bold, and tattoos it in reverse on your forehead:
Findings from Sesame Workshop's initial "Elmo/ Broccoli" study indicated that intake of a particular food increased if it carried a sticker of a Sesame Street character. For example, in the control group (no characters on either food) 78 percent of children participating in the study chose a chocolate bar over broccoli, whereas 22 percent chose the broccoli. However, when an Elmo sticker was placed on the broccoli and an unknown character was placed on the chocolate bar, 50 percent chose the chocolate bar and 50 percent chose the broccoli. Such outcomes suggest that the Sesame Street characters could play a strong role in increasing the appeal of healthy foods.
Yes, yes a character
could
be used to increase the appeal of healthy foods. Or of any other #$%ing piece of merchandise you can think of, and then a few hundred more no one ever imagined.
As the ongoing Elmo/Pampers Study clearly demonstrates.
"IF ELMO EATS BROCCOLI, WILL KIDS EAT IT TOO?" ATKINS FOUNDATION GRANT TO FUND FURTHER RESEARCH [archive.sesameworkshop.org via thinkprogress]
image via muppet wiki