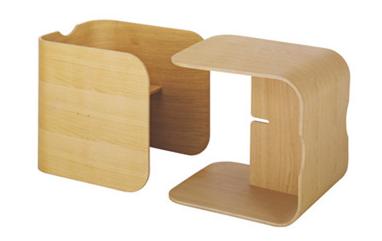 Every few years since the invention of lumber, someone invents a pair of interlocking cube stool/chairs for kids. This year, it's the UK design store Habitat, and the twist is, this one's made of molded ply, to give it that little Vedel-esque something.
Some blogs claim these are already listed on Habitat's site, but they don't show up for me. Hypothetically, they're £99.
update: in the comments, R&R says they bought this in 2004, so it's even more not-new than I thought.
Lock Kid's interlocking table & chair [habitat.co.uk via minor details, thanks dt reader nelson]