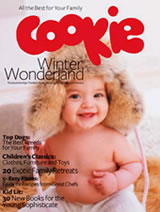 When you pay McKinsey to tell you to jump, you also pay to tell you how high. And by jump, I actually mean, push someone off the cliff.
In the face of an advertising depression Conde Nast just announced they are closing Gourmet Magazine--a veritable bible for food lovers--and Cookie, a veritable bible for people who are determined to get back into their skinny jeans six weeks after their scheduled c-section--and who think babies are too fat to be on the cover.
Rosa, could you please take the kid out so I can observe a moment of silence to mourn the loss?
Conde Nast to Close Gourmet, Cookie, Modern Bride [nyt via felix's twitter]