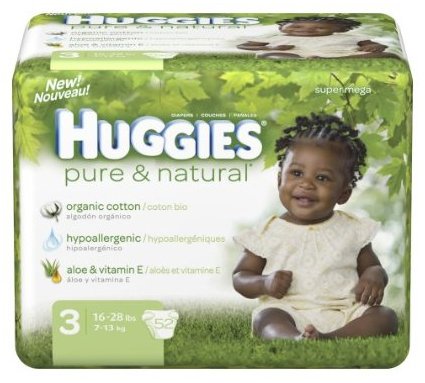 I was one of two finalists to give the student address for my business school commencement. My speech was a hilarious [obviously] reminder that we'd be more effective business leaders if we learn to avoid knuckleheaded jargon and "speak the language" of the people we would work with. Obviously I didn't learn jack, because the whole point of business school was apparently to inculcate you with buzzwords and esoteric managementspeak, which you barrage your clients and colleagues with in exchange for inordinate sums of money. The commencement committee picked the other guy, whose speech was literally about Steven R. Covey and his Seven Habits of Highly whatever.
Like plastic flotsam tossed off the back of a cruise ship, this b-school vocabulary thing washed ashore on the Caribbean beach of my mind when I read the press release introducing Huggies Pure & Natural diapers. Instead of sodium polyacrylate, they're made from recycled buzzwords. Just try and diagram that first sentence, and see if it doesn't end up looking like a pile of flash cards on a focus group table:
Kimberly-Clark Corporation today announced the launch of Huggies Pure & Natural diapers, a super premium diaper that includes natural, organic materials and ingredients to provide gentle protection for new babies, as well as initial steps toward environmental improvements, without sacrificing performance.

The new Huggies Pure & Natural diaper is hypoallergenic, latex and fragrance free and features a breathable outer cover that includes organic cotton. The liner includes natural Aloe & Vitamin E and materials from renewable sources, and the product's outer packaging is sourced from 20 percent post-consumer recycled materials.
Every phrase is loaded to the point of blowout: "includes," not "made from"; "initial steps toward environmental improvements," not "finally, good for the environment."
K-C expects the Huggies Pure & Natural diapers will help the brand build inroads with those moms who are most interested in products that include natural materials to provide the best care for their babies. According to a K-C consumer research study, the moms surveyed expressed a strong interest in purchasing Huggies brand diapers that included organic and natural materials.

"The new Huggies Pure & Natural diaper is designed for moms who desire to provide their babies the best and most gentle care without sacrificing comfort and protection, while using a product that includes organic and natural materials," said Robert Thibault, president of Kimberly-Clark's North American Infant, Baby & Child Care business. "This innovative Huggies brand diaper offers delicate protection for baby, along with the increased use of renewable materials, ushering into the category a new disposable diaper that delivers the utmost in performance and care along with steps toward environmental improvements."
Fantastic. It's always "Huggies brand," never just "Huggies."
"Nathan needs some Huggies brand diapers."
For all the their ambiguously green features, the one promise TreeHuggies deliver on is "super premium": they cost 30-40% more than regular Huggies. But isn't it worth it to be able to feel like you're doing something that helps the environment and your kid and stuff? Or as Toys R Us puts it so eloquently, "You will feel good about suing Huggies Pure and Natural Diapers."
Kimberly-Clark Launches Huggies Pure & Natural Diapers; New Super Premium Diaper Provides Exceptional Gentle Care for Babies [prnewswire.com, thanks dt reader carolyn]
Buy Huggies Pure & Natural Diapers, currently $44 for a double pack [amazon]
Previously: Malcolm Gladwell's 2001 article on diapers is chock full of diaper industry lingo