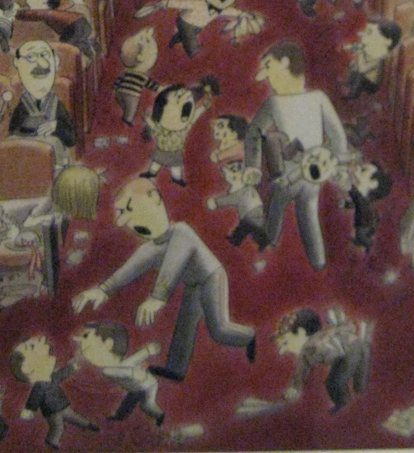 Wow, who knew? Who knew that before they completely sold out and flooded the world with 300 million-and-counting books about their brainless Bear Family, Jan and Stan Berenstain were apparently excellent, talented, witty, and even famous illustrators of the modern parenting experience?
Who knew? Your grandparents, that's who. The Berenstains rode the post-war baby boom to fame, depicting the new, suburban family chaos of overrun parks and kid-filled movie theaters for magazines like McCall's and Collier's in the 1950's. They had a series of humorous and best-selling parenting books, too.
Then in 1962, The Bears came along, midwifed by Dr Seuss himself, Theodore Geisel, who was the head of Random House's children's book division. And all that was good and awesome and complex and witty and observant about the Berenstain's art was drowned in a decades-long sea of forehead-slapping, retrograde, cliched, money-minting simplemindedness. Or so I'm guessing. I don't get near those Berenstain Bears, and I don't let the kids near them, either. Old Hat, New Hat doesn't count.
Anyway, Mark discovered an exhibit of lost Berenstain masterpieces and has a few snaps on BoingBoing. And the Berenstain's son put out a book of the early stuff last year, though it sounds like they're just scratching the surface.
Innocent question: Wouldn't it be worth getting the book just to see how many of the millions of little kids the Berenstains drew over the Baby Boom years weren't white?
Stan and Jan Berenstain's mid-century illustrations [boingboing]
Buy Child's Play: The Berenstain Baby Boom, 1946-1964 - Cartoon Art of Stan and Jan Berenstain by Michael Berenstain at Amazon [amazon via boingboing]
Previously, 2005: Stan Berenstain dies, Retrograde bears live on