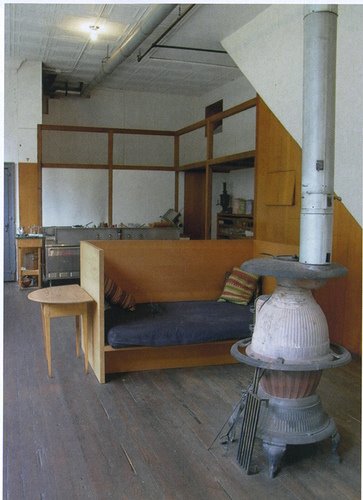 Long-time readers of Daddy Types might remember my grand plan to make a sweet, minimalist toddler bed for the kid out of thick slabs of plywood. The design was an adaptation of a Donald Judd daybed [which is visible in the photo Andy posted of Judd's kitchen in SoHo]. I even called it the Juddy Crib as I was working on it, as a tribute.
Anyway, the original plan was to make the kid's bed as a prototype for a bed that anyone could build himself--or with another dad (or mom), since the design was optimized so that two beds could be cut on a CNC table from five sheets of 60x60 baltic birch ply. It was going to be the Holy Grail of children's furniture, a sweet modernist/minimalist crib you could build yourself for a couple hundred bucks, or you could assemble it yourself after having the wood cut and finished for around $500
The design is extremely simple, and you could hammer one together in a weekend. So why did this thing take three years to finish? Because it was going to go in our NYC apartment, we had to be able to build and take the crib apart. Then I decided that all the joinery had to be invisible. Anyone who works with wood will tell you how much this complicates things.
Then there was the toddler bed safety rail, which couldn't be attached in any way that would leave a mark on the pristine surfaces of the bed. It was eventually made of plexiglass slabs that slide under and are held in place by the mattress, but it didn't get finished before the kid outgrew the bed [which is regulation crib size]. So it sat in the Brooklyn cabinet shop where it had been built. Until we found out K2 was on the way.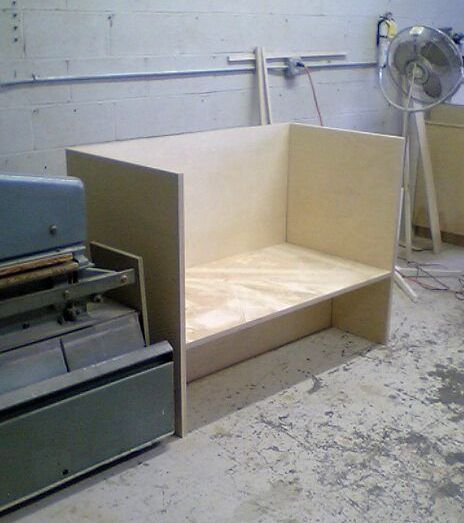 The fire was lit again, and I just needed to get a crib front made by the time K2 outgrew her Bugaboo bassinet. It was originally going to be a glorious mosaic of colored plexiglass tiles, fused together like Gerhard Richter's just-unveiled stained glass window in the Cologne Cathedral. Only my plexiglass guy was going through a divorce or something, and three months of phone tag and messages in the middle of an upstate domestic situation later, K2 was popping out of the stroller. So I jury-rigged [not a term you like to see applied to a newborn's sleeping place] a canvas crib front, essentially a fitted, inside out painting canvas on stretchers. We were confident with it as long as K2 couldn't pull herself up.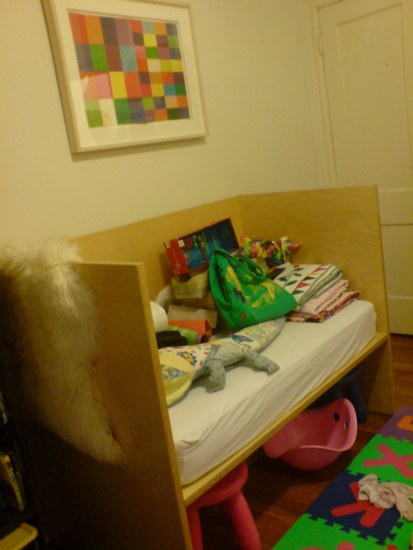 So that bought me another three months, which I used to burn through a whole range of handymen, carpenters, cabinetmakers, and craigslist losers who either couldn't manage to produce the ply-and-plexi frame design I'd come up with. Or they took the job, only to start making all sorts of point-missing design change suggestions like using pine strips instead of ply, or using Home Depot ply instead of the cabinet grade Russian birch, or just screwing the whole thing together instead of dowelling it. Or they said sure, they could do it, and then would come back with estimates ranging from $1000-1400, give or take, and since they charge $100/hr, it'd be mostly take.
Flash forward a couple of Pack 'n Play-equipped months, and we're at my mom's house for Christmas, where my brother-in-law Anthony offhandedly mentions his dad has a woodshop, built it so the kids could do projects. He could help me knock that thing out, easy. So I bought a single sheet of the ply from an exotic wood dealer on Christmas Eve afternoon, then had to have it cut in half to fit into my mom's MDX. On Boxing Day, Anthony and I headed up Hobble Creek Canyon to his parents', where we spent the day teaching each other various woodworking tools. His dad and brother would stop in to make project-saving suggestions. The afternoon alternated between a lacquer haze and a hand-carved jade chess set someone had brought back from his mission to Central America. I saved the last sanding and rub-on coat for after the insanely heavy box of unassuming plywood sticks was delivered to our door in DC.
And then I tried to find three giant clamps so I could glue the thing together. It turns out to be a challenge to do a large furniture-making project in the city with no space or tools. Fortunately, the clamps I borrowed were too short, and I had to go to the woodshop at the Arlington County Community Center Wednesday night, because when I pieced it all together, I realized I had to redrill four dowel holes and cut down the plexiglass panes on a table saw, since they were almost a whole half inch off what I'd ordered. I barely got the glue, sealant, and clamps in place before the woodshop closed for the night. Now K2 and I just got back from picking it up. It needs a bit of steel wool and mineral spirits touchup, but it's done.
I figure K2 has maybe 8-9 months with the cribfront before we swap it out for the toddler rail. But by then, we'll be able to swap out the firm, smooth mattress for the slightly softer, much nicer crib futon.
Sunday update: hahaha, it doesn't fit. I just tried putting the new 2-in. wide cribfront onto the bed, and it's about an inch too wide at the bottom. Or rather, our firm, rigid, framed up mattress doesn't give enough for the crib front to stay on. It's the kind of thing I should have expected from a project that was designed after the fact, and not as part of the original process. I guess we'll wait until we get the futon mattress from NYC.