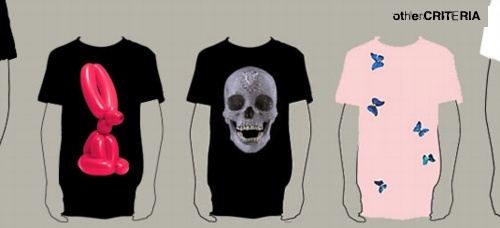 Was it only last year that I actually looked into making a bootleg version of Damien Hirst's diamond-encrusted skull printed on a black Onesie? Because now I can't think of anything more played out and boring.
Though if your kid is gonna be obsessed with butterflies, you could still do worse by her than a Hirst butterfly painting-style t-shirt. And Jeff Koons's balloon dog is alright. The real problem here is that the smallest available size is an American Apparel kid's small, which is a 6-8. Years, not months. If you want to buy that far ahead, I've got some Salvador Dali
sleepers to sell you, never been worn!
Koons and Hirst kids t-shirts, 25 pounds each (at least the Koons proceeds go to charity) at Hirst's store, Other Criteria [othercriteria.com]