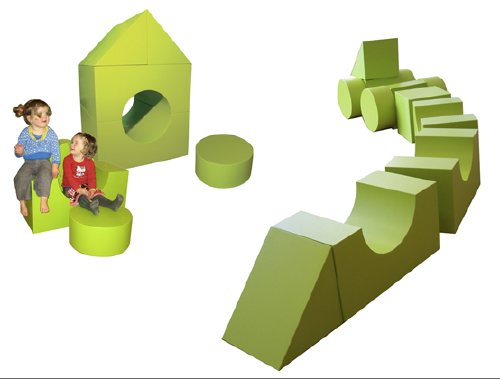 With a name like Studio Papas, I think I'd love whatever Koen Crommentuijn and Marjan Verboeket put out. The fact that it's House for Sale, or Speelhuis, a set of twelve, giant cold-foam blocks shaped like classic wooden blocks is just a bonus. If only they weren't green. And if only they existed in real life, not just as computer renderings.
Or maybe it's just a name designed to appeal to designy dadbloggers. Studio Papas turns out to be just one of several Crommentuijn/Verboeket joints. There's also Bont, a studio which made a slightly overwrought, slot-together ride-on horse.

And Brabants-Bont, another studio which created another unwieldy block project: an armchair out of paving stones in 2005.
Studio PAPAS [studiopapas.nl via minor details]