Dude, it's Elmo's World; we just live in it. Will and his wife Liliana are out-n-proud geeks who live in Fort Worth with their two daughters. On their family website, Will has documented a bunch of his different projects: the sweet-looking crib he made before his first kid was born [tip: don't use poplar]; the matching changing table; the hand-painted nurseryscape [not my style, but very well done. I DO want a hammock to store stuffed animals in, though. That's brilliant.]; his vintage arcade game emulators [geek, remember?]; a font based on the Halo logo.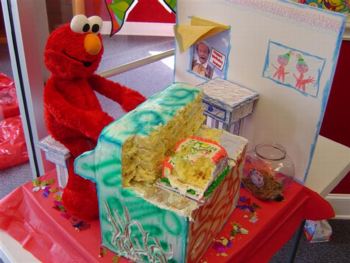 But the most stunning achivements are also the most transitory: the couples' elaborately sculptured cakes. These cakes raise the bar on birthday cakes even without all the motorized features.
One kid's first birthday cake was a present factory run by little Sculpey animals. The Ariel cake was going to have real water and bubbles on it, but the plexi bowed too much. The animatronic, piano-playing Elmo cake, however, turned out just great. The fish had a cake in her bowl; the furniture was MDF, except for the airbrushed piano, which was cake. And the Elmo-sized cake, which was also cake.
See the making of--and the eating of--photos at WillyLiliana.com [willyliliana.com]
Previously: Custom Cakes, $350 and up; Newshour-themed cake