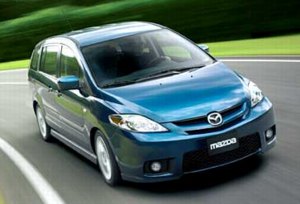 The LA Times' Dan Neil has a great review of the Mazda5, a category of car which he points out is called a "space wagon" in Japan and Europe, but which is, well, it's a minivan, people. And it's a small, excellent, affordable, nice-handling, slightly slow, but overall winner of a minivan, too. So you "suburban breeders" should just get over your minivan self-hatred and accept the car as "proof positive that you have had successful and productive congress with the opposite sex. Can you say as much for a Corvette? I don't think so." And besides, how many car seats can you fit into a Corvette anyway?
Dan goes on: "Are you the wheelman of some starter family out in the exurban boonies? Do you need great gas mileage, lots of flexible cargo space and fret-free access to child safety seats? I have some bad news, Jethro. You need a minivan.
"The Mazda5 is the good news."
The better news: there's supposed to be a Grand Touring edition coming out next year, with all the tuning and body effects of the current Touring, plus heated leather seats, high-intensity headlights, and Isofix/LATCH in the [admittedly cramped] back seats, too. Can you wait?
Married with Children? [latimes.com]
Previous Mazda5 coverage: their pervy ad, and a swooning SAHD.