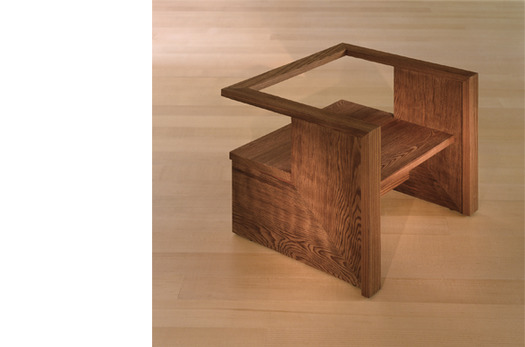 One of my favorite pieces of architecture anywhere is the 1922 bare-bones house Rudolph Schindler built for himself and another couple on Kings Road in West Hollywood. It's made from the raw-est of materials--concrete slab floors and walls (which were poured onsite and raised into place), thin redwood windows and sliding doors, even fiberboard room dividers--but it's still incredible. Schindler also designed the low-slung, proto-minimalist furniture, including a square-framed, canvas sling chair, an open-backed sofa, and a matching side chair.
Used to be, the stuff was so rare, all a man could do was drool or order up some unofficial, one-off reproductions (that's what Calvin Klein did for his Madison Avenue boutique). Well that's changed, since the Schindler estate once again authorized production of some of the Kings Road furniture designs. So why do I mention this here?
Because there is a Schindler children's chair, that's why. I had no idea. Marmol Radziner in Los Angeles makes it to original specs using oiled redwood. It's not cheap--$3,240, or roughly 4.6 Bugaboo Units--and it's probably not the most comfortable thing to lounge in, but it's mighty cool.
R. M. Schindler Children's Chair [marmolradzinerfurniture.com, via DT reader Jan]
Order it for $3,240 at Twentieth Art & Design [twentieth.net]