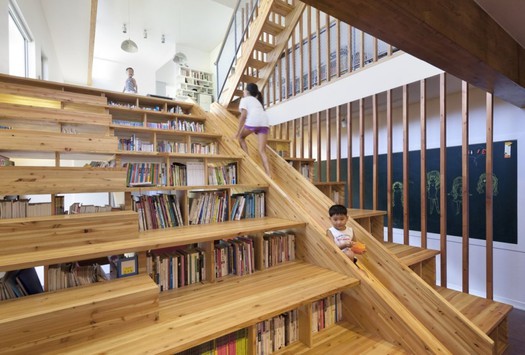 There is a LOT to love about this awesome space at the energetic center of architect Moon Hoon's Panorama House, built in Chungbuk, South Korea. I mean, it's a family room, a stairway, a library, a home theater [with a giant dropdown screen] and a slide.
And it even creates a quieter study area underneath, outside the kids' bedrooms.
But honestly, all these engineered wood treatments are giving me kind of a headache. And that mesh safety rail contraption. And am I missing something, or is it possible to just push those books through, so they fall onto the head of your big sister cramming for her make-or-break middle school entrance exam? Wouldn't a backing of some kind, any kind, have helped? And what if you extended the shelves deeper underneath, couldn't you effectively double the storage space? And then hide all the crappy-looking books in the nook?
And is it a Korean custom, or the unintended side effect of having so many multi-use surfaces in your innovative house, that these kids seem to be standing on tables all the time?
Panorama House by Moon Hoon [contemporist via dt reader rolf]
Moon Hoon architect site [moonhoon]