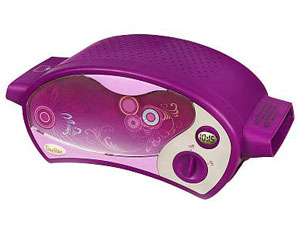 An 8th grade girl is running a petition complaining that the girly purpleness of the newly redesigned Easy Bake Oven is discriminatory against her 4-yo brother, which will either make him all girly, or keep him from learning the joy of cooking, and New York Magazine is ON it.
Never mind that the last dozen or so Easy Bake Oven redesigns were also purple or pink, and that they have always been a giant chickfest, packaging and marketing-wise. They're as embarrassingly obsolete as the notion of light bulbs that were so inefficient at producing light, you could bake with them. Oh right.
If you want a kid to learn to cook or bake, give him a set of pans, and just put him to work in the actual kitchen. Start with measuring and dumping. Then move to washing the dishes. Making dad a sandwich.
Eighth Grader Finds Easy Bake Oven Sexist [nymag]
Are you actually going to buy an Easy Bake Oven on Amazon after this? Or just click through and support Daddy Types while you shop? [amazon]