From Grand Island, Nebraska's Channel 10 11 News [1,011? 10&11? Do they have so many channels in Nebraska, or so few that they're combining them now?] comes a story of a 3yo boy who uses sign language and the zero-tolerance school district that wants to crush his spirit:
Hunter Spanjer says his name with a certain special hand gesture, but at just three and a half years old, he may have to change it.

"He's deaf, and his name sign, they say, is a violation of their weapons policy," explained Hunter's father, Brian Spanjer.

Grand Island's "Weapons in Schools" Board Policy 8470 forbids "any instrument...that looks like a weapon," But a three year-old's hands?
The boy's relatives and several people on the street agree it's ridiculous. But it's also hilarious that the news reports only describe Hunter's name sign as "a certain special hand gesture." Of making little guns with your fingers and waving them around.
I would think the Spanjers would have a better time arguing that hands are not "instruments," because otherwise, seriously? Unless they send him to an NRA charter school, Hunter's gonna be hitting up against the "no guns, and that includes finger guns" rule for his whole educational career. Are his friends gonna be able to claim, "Those weren't finger guns, I was just signing 'Hunter'!"?
And anyway, I don't know the first thing about how a deaf kid gets his sign name. I would love to know. Do parents make it up, just as they do his name name? Does it evolve as you teach a kid and talk to him, and as he learns and develops? Does it change over time, the way Billys become Bills or Williams? Is it a nickname, like Toofie, given to you by your little brother who can't pronounce your name, and it just sticks?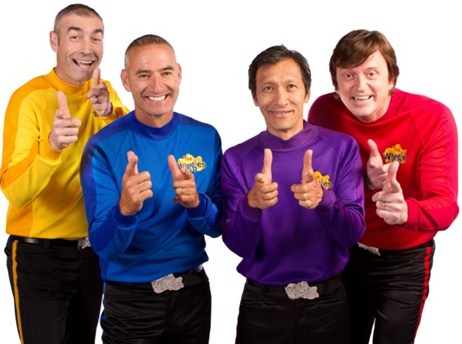 I ask because I don't know why Hunter's name is "shoot'em up, guns a-blazing" in the first place. Did it come from The Wiggles? [Did you know Finger Guns was the name of Murray's previous band?]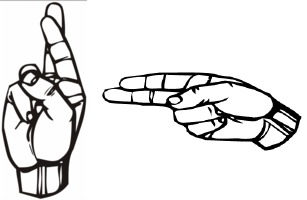 Why does his sign name have crossed fingers, like the letter R [above, left]? Shouldn't it be two fingers, with the thumb down, like an H [above, right]? Would changing to H, and losing the full finger gun effect solve the problem? I had to Google search to make sure I didn't inadvertently give my kid the same as a porn star; doesn't it make sense to check before giving your kid the sign name for Columbine?
Grand Island Preschooler Asked to Change the Sign for His Name in School [1011now.com via dt reader