The Bloomberg administration has persuaded 27 of New York City's 40 hospitals to adopt new, breastfeeding-friendlier procedures for newborns. As part of the new Latch On NYC program, maternity ward nurses are supposed to encourage new moms to breastfeed by default, not hand over a bottle of formula. In fact, the formula's going to be locked up. So if or when they're explicitly asked for it, the nurses will have a bit of a hassle to provide the powder.
It's just like how having to go outside and halfway down the block to stand in a doorway in the rain cuts down on smoking.
The CBS rehash of the NY Post report says the program's voluntary, but the Latch On NYC page refers to the enforcement of "NY State hospital regulations" prohibiting the promotion of formula or any other interference with breastfeeding unless deemed to be medically necessary. And the rest of the program deals with bans on formula giveaways and Big Formula promotional material.
UPDATE: Thanks to Ms. Weinberg, an official from the Latch On program who commented below, to remind us all of the many and varied benefits of breastfeeding to both mother and child.
She also asserts that this post is "inaccurate" to say that the Latch On program will cause hospitals to "lock up" formula, or require a mother to "give a medical reason" to use it. And that the program in no way "restricts access" to those who choose to use formula.
Frankly, I think the best discussion of this is in the comments, where it seems obvious that the objective of Latch On is to alter institutional habits and to counter vast and longstanding corporate marketing by Big Formula. And as such, the city and its program have my full support. Other astute commenters note that encouraging breastfeeding success in the crucial first hour or days requires more than just making formula slightly more inconvenient for nurses. It requires knowledgeable lactation expertise and support for the many women who don't immediately find breastfeeding to be a problem-free, rewarding joy. That proactive support is not included in the Latch On program.
But back to the two major, supposed inaccuracies. The Latch On NYC website states:
Hospitals joining Latch On NYC have agreed to:



Enforce the New York State hospital regulation to not supplement breastfeeding infants with formula unless medically indicated and documented on the infant's medical chart


Limit access to infant formula by hospital staff


Discontinue the distribution of promotional or free infant formula


Prohibit the display and distribution of infant formula advertising or promotional materials in any hospital location
So the first and second objectives of the program deal with medical indication and limiting access "by hospital staff." I think Daddy Types' characterization of these objectives is at least as accurate as the NY Post or CBS News's, and in fact is more accurate for including reference to a state regulation on formula use which I have not seen mentioned or discussed anywhere. But now I will search it out.
In any case, if an unwarranted charge of media inaccuracy was the needed impetus for Ms. Weinberg's valuable comments on the benefits of breastfeeding, Daddy Types is glad to take the punch. And then let us all be more aware of breastfeeding by gazing on the invisible nursing-padded bosom of DT's patron saint of lactivism, Uma Thurman, who is probably breastfeeding her new daughter right now. Mazel tov.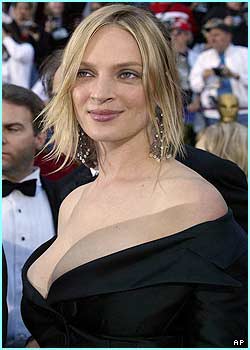 Mayor Bloomberg's infant formula plan aimed at promoting breast-feeding in NYC hospitals [cbsnews via dt reader dt]
Latch On NYC [nyc.gov]