DT Short Answer: Yes.
After some nutty estimates on the cost of restoring our 1985 Mercedes diesel coupe, and after some frank analysis from one of the younger guys who actually works on our car regularly, it's sadly clear we are not going to keep our beloved [by me, anyway] car much longer.
We'll use the car for school runs and hauling stuff [our other car, an E-Class, has a comically small trunk, whereas our old coupe could fit like eight hypothetical hookers back there, plus the no B-pillar windows meant you could even fit big paintings and stuff in the backseat.]
So here's what I'm thinking
Top priorities:

great gas mileage, the better the better


can haul stuff, if not necessarily 4x8 plywood


so a wagon, probably, but no SUVs--unless there's a miraculous, issue-free, 5-door, 30+mpg Gelandewagen, which is NOT the same thing as a G-Class, don't even start with me--and no minivans--unless you can get me an honest-to-goodness TDI VW Eurovan


doesn't require quarterly $2000 visits to the shop [see above]


costs a little more than the annual maintenance costs of the current ride, or about $10-15,000


not cheap or tacky


looks great
And what I'm looking at [and not]:
I will not buy a new Mercedes. And that goes for a whole slew of other new cars that somehow manage to lose 60-80% of their value within a few years. Of the only new cars I'd really consider--the Nissan Cube, the Honda Fit, and the Prius V--only the Prius seems to have any actual space. Is that true? I guess it doesn't matter, because some folks around here--not naming any names--really hate the Cube.
Am I missing something? Do you have one of these cars, and love/hate it? I almost want to set up brackets and have a playoff.
MB E-Class Wagon, 2000-2005 or so
Pros: 3rd row, high-quality, perpetuate futile illusion of success and status. Our Mercedes guy will still love us.
Cons: we already have a sedan. mileage is not that great. CDI didn't come in until 2005.
Tentative Conclusion: no, it's perpetuating our status quo, not lowering the amount of gas we burn. Also, getting the diesel is probably the most expensive option among them all. So while it'd win against almost any new car purchase, it loses points in this mix.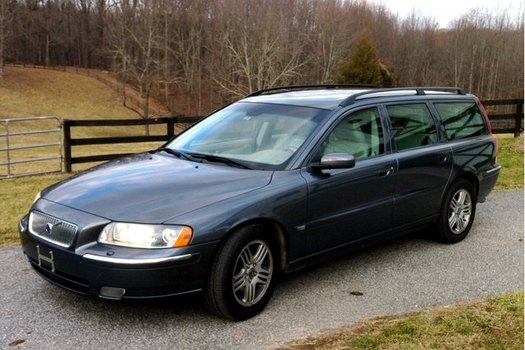 Volvo V70 Wagon, early 2000s
Pros: comfortable anonymous assimilation. Seriously, 40% of our DC neighborhood has these. I would really try to drive it with self-awareness, if not irony. Third row.
Cons: mileage is really amazingly bad, like under 20mpg. It's as if using less gas didn't even occur to people in 2000. Sporadic comments about maintenance issues.
Tenative Conclusion: no, because the mileage, and because what I really kind of want in a Volvo wagon is a 960 or a diesel, and those are basically the same portfolio of old-to-vintage car maintenance issues we're facing now, only with no experience or trusted mechanic. Not a net gain for me in some important stakeholder eyes. [Hi, honey! Almost done here!]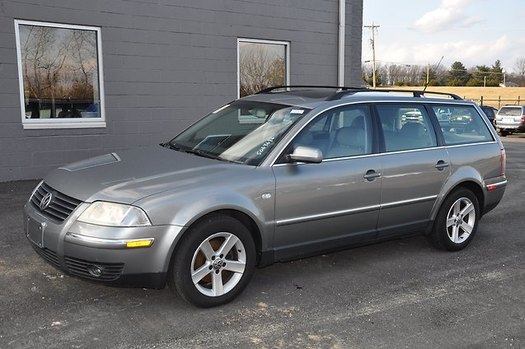 VW Passat Wagon TDI, 2004-05
Pros: I really like the looks of these Passats. Which also means I don't like the design of the newer ones, or of the newer Jettas. Great mileage, 35-40mpg. Nice space.
Cons: wow, some people howl over steady, expensive, maintenance/reliability issues. Three friends with Passat wagons [non-diesel] jokingly beg us to buy theirs. This only gets worse for similar Audis [like the A6 Avant], which get worse gas mileage and have less interior space. Also, no third row, only 2.5 rear seats, especially with booster/car seats installed.
Also, it turns out to be very hard to find very low-miles examples of these TDIs. Everyone seems to have driven them 20-25,000 miles/year or more.
Tentative Conclusion: I'm kind of bummed, but maybe not. The Passat TDI is what I've been comparing everything else to in this process. If the reliability thing is a canard, I think I'd be glad to get one of these for running around town. While I like the new Golf a lot, and older Golf and Jettas, too, especially those 1999-2003 Jetta wagons, they're really all too small.
Tentative is a relative term: LOL, just found this exact discussion about this exact car from 2004 when it was still new. I guess I like to take my time to decide sometimes.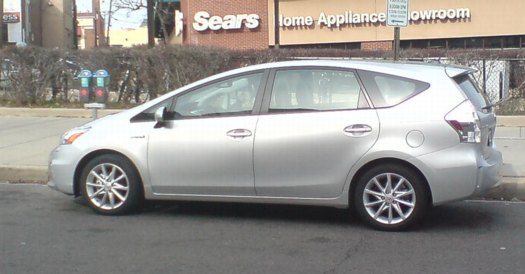 Prius, 2004-6 or Prius V

Pros: Mileage, obviously. The pious thing is not a dealbreaker. Fairly decent number of low-miles examples in our desired price range.
Cons: Space. Hippies. Boring.
Tentative Conclusion: My yuppie guilt says yes, but the reality of that tiny cargo capacity and rear seating says no. Then the issue is the Prius V, which was so surprising to see on the street a few weeks ago, I had to take a picture [above]. And now, it's like Tribbles, they are freaking everywhere. The entire first boatload of Prius Vs came to DC. Frankly, it reminds me of a peoplemover, so the Mazda5 or something. Which, sure, but no.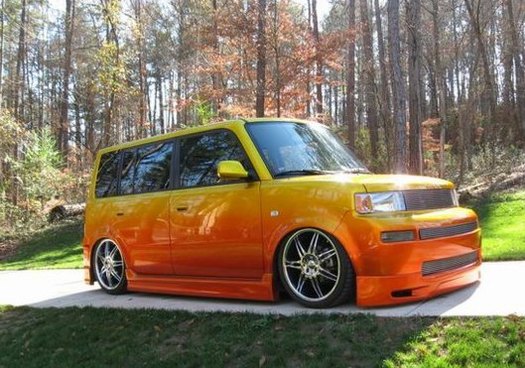 1st Gen Scion xB, 2004-6
Pros: dude, seriously? This car is awesome. I've wanted one from day one. Great mileage. plenty of space. Headroom. Ugly awesome. Proudly cheap. Not easy, but not impossible to find very low-miles examples, which may have been driven gingerly by conscientious old people, or which were tricked the hell out as promo cars and driven almost never. Also sometimes include sick, sick stereos and multiple LCDs.
Cons: Also sometimes include sick, sick stereos and multiple LCDs, seriously, people, do you really think you're going to get even 10 cents on the dollar for all your cockamamie mods? Or that I want to pay $14,000 for a 6-year-old $15,000 car with 100K miles?
Tentative Conclusion: I guess the real DTQ is, "Should I get a Scion xB, and if so, what are the things I should consider, like should I get a sick show car and try to make it a little less embarrassingly normal, or should I just go for the stock box, and do my own occasional sick vinyl wraps, or is the cheap box experience of driving it a little too pronounced to ignore, please say it's not, because I used to think that I was too old for an xB, but now I've come around to thinking maybe I'm too young, but could I pull it off somehow, or am I really kidding myself and begging to be saved from a really comically lame midlife crisis, just get the Passat or E-Class and be done with it?"
UPDATE Oh, I totally forgot the Losers Throwback Bracket, which are so cheap [$3-5k] and so counterintuitively awesome, they just might work, no joke: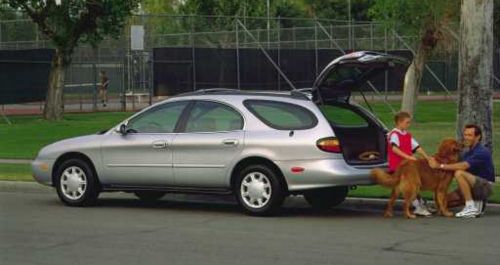 An OG oval Ford Taurus wagon, non-SHO, probably the first year, 1997 or so, with the most bug-eyed headlights, not the redesigned retreat from radicality of the 1998-99s. With the money I'd save, I'll buy some carbon offsets.
[hold on, dinner...] OK.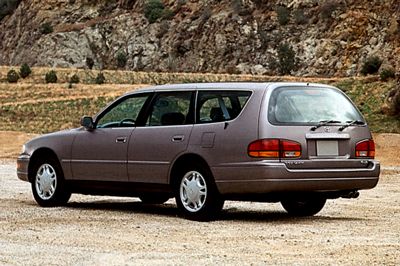 Then there's the odd-but-endearing and solidly reliable 1991-6 Toyota Camry Wagon, which occasionally did come with a third row seat, amazingly. I just followed one home from ballet lessons tonight, a very clean white one. But they're mostly beat to hell; who takes immaculate care of a mid-1990s Camry? Nonetheless, totally fine by me.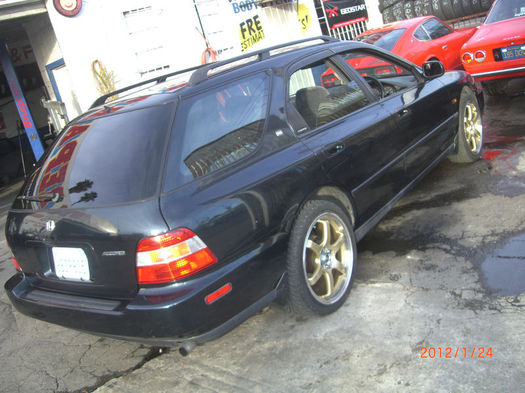 And the last, which I really came close to pulling the trigger on a couple of weeks ago, actually, sight unseen, a 1997 Honda Accord Wagon. The US models are usually pretty beat, but this is one of the very few models of cars to win DOT and EPA authorization for grey market importing, because the JDM models--which were made in the US, ironically-- were deemed to be "very similar" to the domestics. And so there was an outfit in Orange County a couple of years ago who started importing very clean, very low-miles RHD Accord Wagons for like $9,000. One just sold on eBay out of LA for $8,700. Servicing's apparently no big deal, but drivethroughs, obviously, are. Anyway, the mix of boring and interesting more than makes up for the smaller size. And then I could start going to ricer meetups.