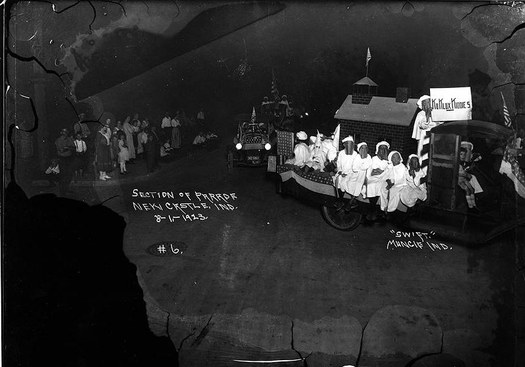 If I were to make a list of the most unexpected things to discover while searching through a tumblr of letterhead designs, the existence of a junior auxiliary for the Ku Klux Klan would be at the top. But there you are: the Ku Klux Kiddies, ages 3 and up.
And via Google Books, the 1997 anthology, The Politics of Motherhood:
In the 1920s, hundreds of thousands of women joined the Women of the Ku Klux Klan, enlisting their children in "Ku Klux Kiddies," Junior Ku Klux Klans and other auxiliaries. With a total enrollment of several million men, women and children, the combined Klan groups of the 1920s mounted a powerful campaign of religious and racial bigotry, directing their message of hatred toward Catholics, Jews, African-Americans, labor radicals and others...The Klan appealed to mothers especially, characterizing them as the foundation of the family and the nation and suggesting that it was white Protestant women's maternal duty to ensure the racial and religious privileges of their children.
The photo above,
from the Ball State University library
, is of a Ku Klux Kiddies schoolhouse float in a 1923 Klan rally in New Castle, Indiana. According to
Rory McVeigh's 2009 history The rise of the Ku Klux Klan: right wing movements and national politics
, the growth and quality of parochial [i.e., Catholic] schools and the increasing numbers of immigrant and black high school graduates they produced, led the Klan to embrace public education as a political rallying point for white Protestants:
Klan leaders sought not only to gain a Protestant monopoly on the administration and delivery of education in the United States, but also to elevate public education as a source of social esteem...They clearly recognized the advantages that would come their way if the public schools were to be generously funded through tax revenue. Catholics (as well as Protestants) would be compelled to enrich the public school system to a point where Catholic schools could no longer be competitive.
[
via Google Books
]
Fortunately for the United States, that's all in the past.