Anyone remember back in 2008, when I asked everyone and no one in particular, "How many Evel Knievel tricycles do you think are still out there?"
Well, it's taken almost three years, but we finally have an answer: AT LEAST ONE.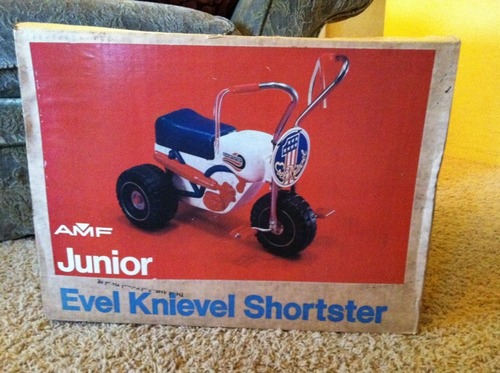 After he left a comment on that earlier post about his memories of getting an Evel Knievel Shortster trike for his 2nd birthday, I emailed DT reader Melton. Who said he'd commented because he'd just been cleaning out his dad's garage, see, and there in the bottom of a cabinet was a second Shortster, unopened, in the box.
This is what the Internet was invented for, people. Our Cold War forefathers knew that, in the event the Communists in the USSR and Red China tried to bring down the global financial system by attempting to cast doubt upon the Good Faith and Credit of the United States of America, God- and Capitalism-loving consumers would need an electronic communications network resilient enough to trade gold bars and/or Glenn Beck TV subscription credits for awesome, stars&bars daredevil toddler ride-on toys from the 70s.
Or something like that. I'm just trying to accurately capture the momentousness of the news of this Shortster discovery. It'll probably be on eBay in time for the Fourth of July.
Previously: Evel Knievel tricycles and other highly collectible novelty vehicles