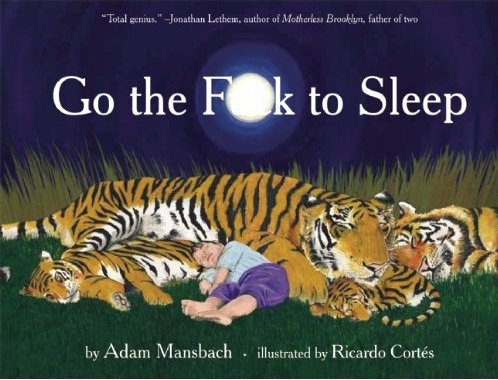 I can't wait for Adam Mansbach and Ricardo Cortes' new children's parents' book, Go the F**k to Sleep to come out. Seriously.
No, seriously. October 11th?? I'm sure it's funny as all f**k and whatnot, but I'm serious. Get that shit off the publisher's desk and jump it to the front of the queue. Kindle that shit, I'll buy a Kindle right now. Throw it on lulu.com, it's done in like five minutes. Or gimme a f**king galley, I'll head down to The Strand after preschool dropoff. Why oh why'd they chase out those stolen book sellers from Columbus Circle, just when I need a f**king bedtime book that might actually put the kid to sleep in under three hours?
Oh right, that's assuming it f**king works. It DOES work, right? Because sympathy LOLZ ain't gonna give us our evenings back.
Preorder [!?] Go the F**k to Sleep on Amazon [amazon]
Yeah, I wish you'd written it, too, Oz, cuz maybe it'd be out now: The Children's Book I Wish I'd Written [babble]