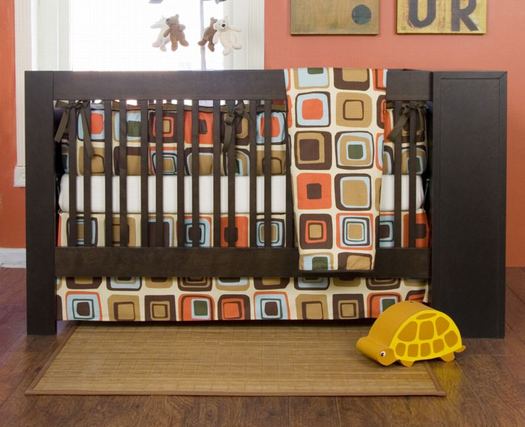 DT reader David still has a few months left to figure out who makes this crib and where he can buy one. Or at least one like it.
The folks modeling the bedding have no idea who the manufacturer is--actually, they had three ideas, all wrong. From the construction on that end cabinet, it doesn't look like super-high-end, but I couldn't figure it out, either.
The closest I could get was the Babyletto Modo, a convertible crib from Million Dollar Baby's modern collection. [Holy crap, people, MDB bought Nurseryworks last April?? I am really dropping the ball here.]
My alternative was the very flat and very blue Hermelin crib from Ikea, but holy crap again! It looks like it's been discontinued! Oh well, gone to its rest with the other, crazier Hermelins, no doubt.
But anyway, maybe someone out there knows, or can suggest some cribs with wide, flat legs and clean lines, with or without the shelving? David is waiting, er, expectantly.
And we have a winner: As Esther [and just minutes later, Ralph] point out in the comments, this is the Morigeau Lepine 9000, as seen on er, daddytypes.com in 2008. Morigeau mori-went out of business in late 2007. The JC Penney knockoff of this crib/bookcase does not currently appear on the company's website. Keep hunting, David!