Like many people who grew up watching the show, I was pissed when PBS dropped Mister Rogers' Neighborhood from their daily lineup in 2008. Pissed but unsurprised. Fred Rogers is so un-commercial, un-merchandised, so resolutely calm, he's the diametric opposite of what kid's TV has become.
I've kept waiting for Rogers' shows to turn up on iTunes, but there's only the first DVD's worth, part of one season.
But hey-ho, that may be because they're all on Amazon's Instant Video service. Which, starting today, is free for Amazon Prime members. You can stream 30 seasons of Mister Rogers' Neighborhood, 300 episodes in all, ad-free, for free, to your computer, TiVO, Roku, or net-enabled TV. [Amazon Instant Video FAQ]
Which is good, because of the 5,000 films Amazon is offering its Prime members, there are barely a handful of kid-related titles, and they're random-to-weird at best.
And after taking a quick stroll through the Amazon Instant Video neighborhood just now, I don't think it's the kind of place I'll be letting the kid loose in on her own. Like the 2nd pick in the Prime Eligible TV section turns out to be the original BBC version of Skins, the teensexploitation series that MTV just got in trouble for knocking off.
The 2-min. preview of the first episode of the first season introduces us to Tony, who is standing at his window in his y-fronts as the lady across the street gets dressed for him. I didn't catch her name, but I'm pretty sure it was not Lady Elaine Fairchild.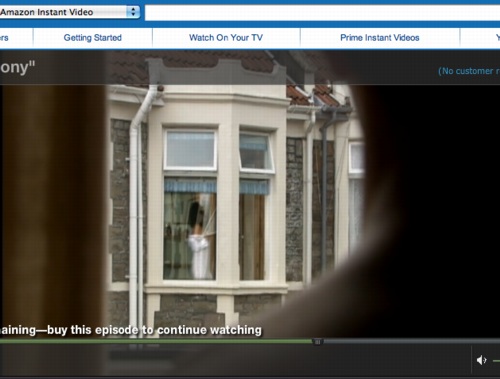 Stream or download Mister Rogers' Neighborhood--and much else--via Amazon Instant Video [amazon]