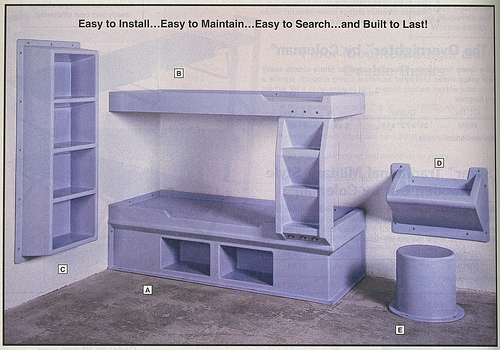 Good googly moogly, this is the sweetest-looking bunk bed I've seen all year.
I wonder if a safety rail might make it feel too confining, though.
"from the Winter 2004 catalog from ATD-American Co.: 'Official Headquarters For All Of Your Correctional Needs'" [publiccollectors via stork bites man, who nailed the Atelier van Lieshout connection]
UPDATE: Found it. Or at least something close. Max-Secure Detention Products makes a line of monolithic molded polymer corrections furniture--the proprietary formula is called Herculite!--including lower and upper beds. And those sweet single piece shelf units. Those ladders are awesome. Holy smokes, look the photo on the front page of their website: they're available in Ikea colors!