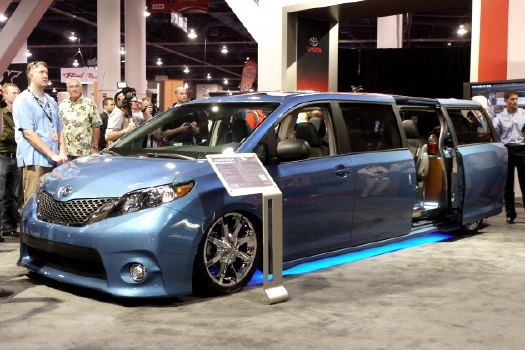 Mad family props to Toyota for trying to stretch the grating-but-attention-getting Swagger Wagon thing as far as it can go. And I mean that literally: they unveiled a Swagger Wagon Supreme at SEMA in Las Vegas, and it is a stretch Sienna full of family props.
Note how your mind focuses on the pair of giant nipples sticking out of that bag, and not on the Housing Bubble Granite counter; the protruding corners of the off-the-shelf mini-fridge; or the useless vitrines of random grandma vases.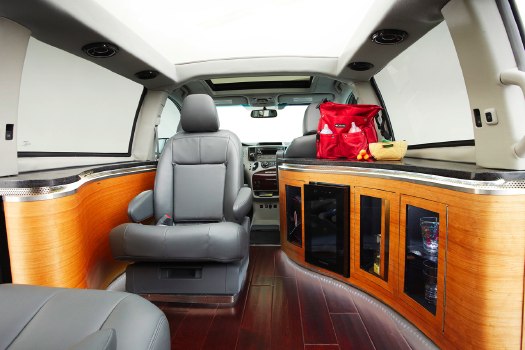 Note how scattering a few toys around and flipping the seat cushions to the colorful side distracts you from the horrible-for-everyone placement of the flatscreen and another huge cabinet--molded ply, but still--whose sole function seems to be providing a single, too-low cupholder and storage for exactly seven single-disc DVD cases. I mean, if they're going to be removable, shouldn't those cushions at least convert to booster seats?
Now see it without the props: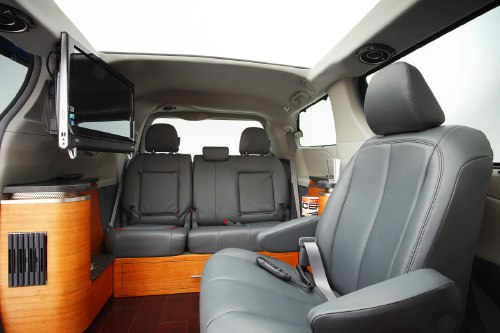 The effect is even more pronounced if you go to Autoblog and toggle through Toyota's press photo slideshow. Seeing identical shots, with and without the toys, lays bare the reality of the publicity stunt artifice this modded minivan represents.
Now don't get me wrong; I would love to see someone actually take his minivan to a custom shop and turn it into the sickest man van in the world. But if you do, pay attention to the details. Put some thought into how it works, not just how it looks. Or how it photographs. In other words, do the exact opposite of what Toyota has done with the Swagger Wagon Supreme.
Toyota brings some swagger to Sin City [autoblog via dt reader george]