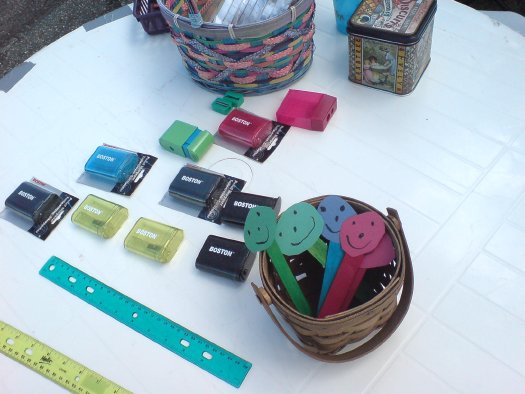 Sorry for the light posting around here; we've been busy getting ready for the grand opening of the One Cent Street Store.
On the kid's first official day in the business world, she has already learned some important lessons:



Load up on free office supplies.


You don't want your customers to "over-money you."


So you give them a fair price--one cent--that's more than your costs [see #1]


When you begin making change with a jar of pennies, most people will tell you to keep the change.


Crafty/handmade sells with the ladies.


Be skeptical when MBA types come by offering to promote your business on "blogs" and "Twitter."

So far, she's made $4.06 of pure profit.
Update: Rather than close up shop during swim lessons and lunch, she ran it Amish-style, just left the money cup. Came back and found two pencil sharpeners and a notebook gone. Nice work, Utah!