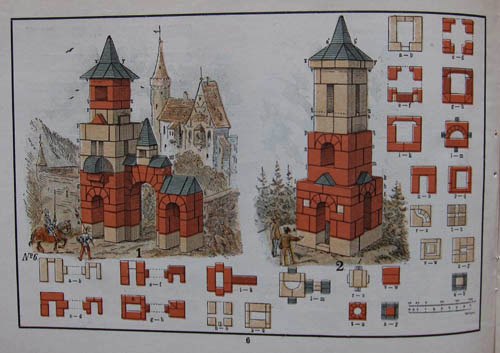 Everyone's favorite architopian blogger Geoff Manaugh just geeked out over the massive collection of vintage blocks and building toys in the archives of Montreal's Canadian Centre for Architecture.
The primary target of his fascination is Dr. Richter's Anchor Blocks, a system of molded stone architecture blocks that were created, like Froebel blocks and gifts and kindergarten itself, as part of a mind-molding pedagogic system.
Anchor blocks have turned up here before, and while they're fancy and kind of cool, their basic philosophy--instill "tidiness and order" by copying increasingly complex Northern European-style block towers--is way out of date with our understanding of how play affects kids' development.
Geoff's got a ton of pictures, a healthy dose of history and vision, and a tantalizing comparison of the 3-D building toys for boys vs. the 2-D patternmakers girls were stuck with. Sometimes a tower is not just a tower.
Indefinite in number, but of certain fixed shapes [bldgblog]