I'm sorry, did that last post about the esoterica of lead standards, and the Washington miasma of congressional lobbying not get my point across clearly?
Let me try it another way:
HOLY CRAP, PEOPLE! IF YOU DON'T CALL YOUR REPRESENTATIVES IN CONGRESS NOW, AND HELP THE HANDMADE TOY ALLIANCE FIX THE CPSIA NOW, LITTLE ALOUETTE'S HANDMADE WOODEN TEETHING MOUSTACHE GETS IT, AND I MEAN FOR GOOD!
AUX ARMES, LES CITOYENS!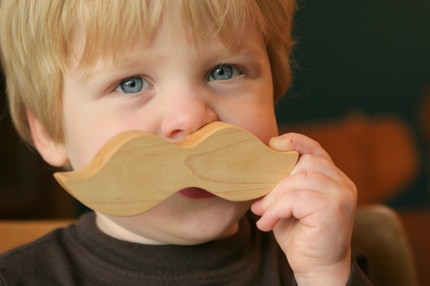 Or you could just buy one or two yourself and not give a damn about what kind of awful plastic corporate moustache teethers other peoples' kids will have to use years from now, which is probably the more American thing to do, unfortunately.
Little Alouette Wee Wood Moustache TEETHING TOY, $12 [etsy via dt moustache sleuth sara]