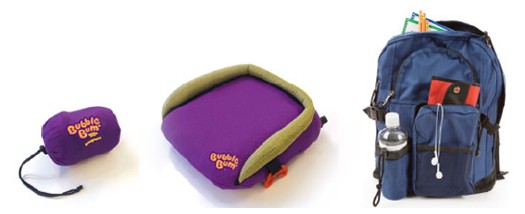 Is this all because RyanAir is charging £20 to bring a carseat on a plane? Where are all these Britons going without their carseats, anyway?
It turns out inflatable booster seats are proliferating across England faster than CCTV cameras and poorly thought-out government database surveillance schemes.
Here's a question, though: Does using PayPal to buy a [government safety standard-certified!] car seat from a start-up feel somehow different from heading down to the big box store to choose a hunk of plastic made by an unaccountable international conglomerate whose lobbying power has kept government regulators at bay for decades? Or is it just me?
Bubble Bum Booster Seat, £25 in the UK [bubblebum.co.uk via jan from loopfietwinkel.nl]