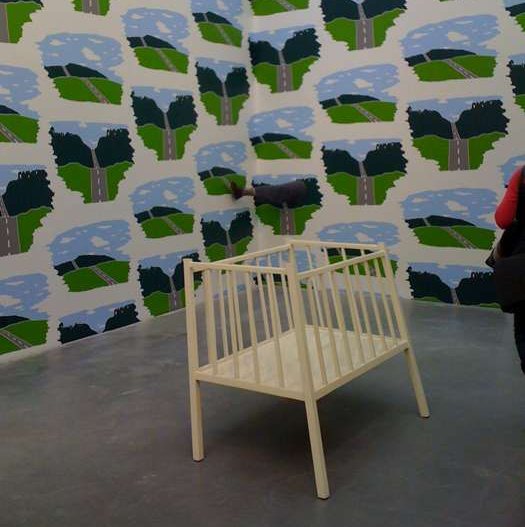 I've always loved the cute-but-unsettling evocations of vestigial childhood memories that adhere to the incredible, hand-made sculptures of Robert Gober. And it continues to surprise me that no one has ever licensed Gober baby furniture--actually, that doesn't surprise me at all. But at least, why has no one created a Gober-inspired nursery?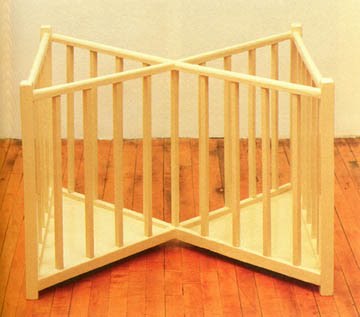 I mean, the actual crib and playpen sculptures are problematic because a) they're sculptures, not functional objects, so b) they're often distorted or incomplete, c) they probably run about a million dollars apiece if they ever came to market at all, d) if you did manage to get one of the rare, 4-sided, right-angled works, the conservation risks of having a teething kid gnaw on the rail might keep you up at night, and the real dealbreaker, d) the spindles are spaced more than the CPSC-mandated 2 3/8 inches apart, which could pose a strangulation or entrapment hazard.

But there are sculptures in the form of Roycrofter-style toddler beds, too, and tiny little chairs, handmade to look like injection-molded plastic And wow, those early dollhouses, which were the site of several key breakthroughs in his work. Like that one that sold at Christie's in 1998 for $68,000, even after the artist downgraded it from sculpture to a carpentry project after discovering that someone had remodeled the bathroom and painted over his hand-printed wallpaper [!].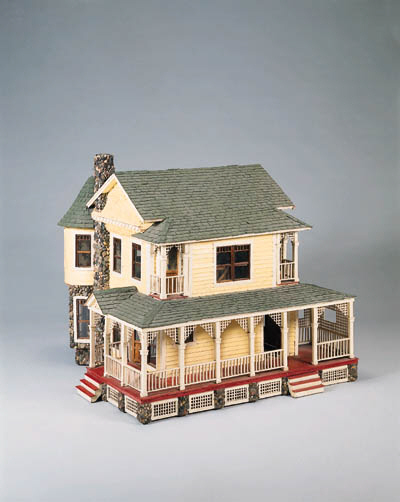 As for the wallpaper: the genitally explicit one's not as much of an issue as the one with the lynching. Oh, and tiny, little Mary Jane shoes [with or without hair inside]. You could hang things on the wax legs sticking out of the wall, or perhaps install a pair and rest a shelf across them.
I'm busting out my Robert Gober: Sculptures & Installations, 1979-2007 catalogue right now to place my order. Operators are standing by!
@artnetdotcom: "Robert Gober's evil nursery [sic]", from the collection of Dakis Joannou, on view at the New Museum [via @artnetdotcom's twitter]
Previously: Why not... A Robert Gober X Sol Lewitt Soft Contained Play Area?