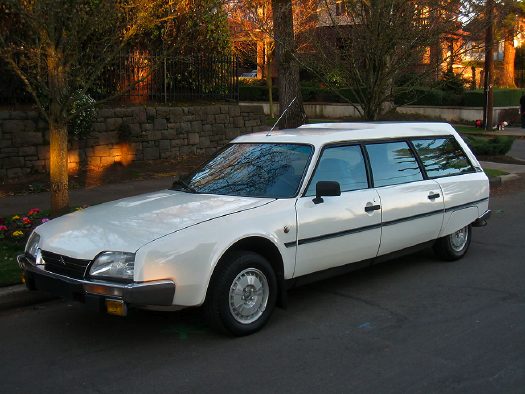 When we last saw our heroically rare, low-miles, three-row 1981 Citroen CX diesel station wagon in December, it was on eBay in Florida. And we mourned, because it had sold so quickly, thanks to the seemingly low Buy-It-Now price of just $9500.
And seriously, when would such an incredible, oddball of a family car ever find its way to the US market again? Would you guess about 10 weeks later?
The car is featured today on Jalopnik's Nice Price or Crack Pipe? with a tasty markup--$13,000--that you must admit, does look rather crackish.
On the other hand, the car is now in Portland, with about 6,000 more miles on the clock. Which could very well mean that the eBay buyer proved that this bateau magnifique de famille could cross the entire country, deTocqueville-style, and still make two months' worth of Trader Joe's runs, all without blowing a globe.

And confidence like that's gotta be worth something, right?
Feed Your Inner Surrender Monkey for $13,000? [jalopnik via dt sr wagon correspondent, jj daddy-o]
Rare in the US: 1981 Citroen CX diesel wagon - $13000 (NE Portland) [seattle.craigslist.org, also cached at gawker]
Previously: Pas Disponible! Citroen CX Wagon Diesel in the US!