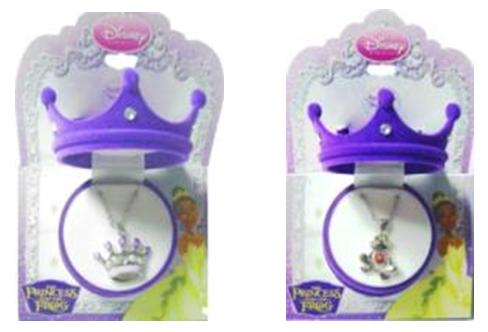 FAF Inc. of Greenville, RI has charmed generations of children with their magical animated storytelling, their pioneering theme parks, and their unparalleled merchandise.
In just a few short years, they created one of the most powerful little girl brands, FAF Princesses, and turned it into a $4 billion/year juggernaut. Just last month, FAF took the revolutionary step of introducing their first full-length feature with an African American FAF Princess, The Princess And The Frog.
The success of both FAF's film and its tie-in merchandise can be seen in the impressive sales volume of FAF Princess Tiana jewelry at Wal-Mart stores across the country: 55,000 units in less than three months.
So it comes as quite a shock when a brand as beloved by families as FAF is the subject of a recall, but whaddya know, that $5 Wal-Mart jewelry turns out to be made with highly toxic cadmium. If you can't trust FAF, Inc., who can you trust?
Seriously, not a single D-word mentioned: FAF Inc. Recalls Children's Necklaces Sold Exclusively at Walmart Stores Due to High Levels of Cadmium [cpsc]