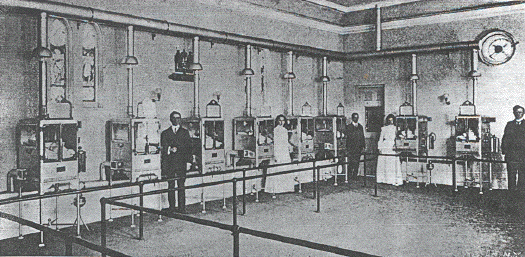 Dr. Martin Couney pioneered the treatment of premature infants in the US. He exhibited babies he was treating in incubators at a succession of expos and world's fairs around the turn of the last century. Then he settled into Coney Island, the Discovery Channel of its day, where his preemie exhibit was one of the most popular side show attractions at Luna Park. Before he changed his name from Archibald Leach, Cary Grant was a boardwalk barker for Couney's baby exhibit.
One apparently golf-hating pediatrician, Dr. William Silverman, spent 28 years researching the history of prematurity treatment. He published Couney et al's tale in the journal Pediatrics in 1979:
In 1939, Arnold Gesell of Yale was interested in the "beginnings of the human mind;" it occurred to him that serial motion picture records of "fetal infants" (prematurely born babies) might provide some clues to the prenatal phase of behavioral development. He learned that the largest collection of premature infants on the eastern seaboard was in the exhibit at the World's Fair. He went to the exhibit with his cameraman, Mr. Paul Hartmann, and they photographed Couney's charges at some length in 1939 and again in 1940. I reviewed a short bit of this extensive record in 1959, [25] and the entire record in 1970. [26] I made a copy of the segment of the film showing the methods of feeding and care provided by the legendary Madame Recht (Fig. 16). In one scene she demonstrated the hair-raising technique of nasal-spoon feeding (Fig. 17). When I showed this film to nurses during the "no touch" era in the early 1960s they could not believe their eyes. And the next sequence was met with nervous laughter; it showed a 17-day-old infant (weight 945 gm) receiving a bath in a basin of water followed by a vigorous massage and rub down with a coarse towel.
"The 'no-touch' era in the early 1960s"? How reassuring to know that within a single generation, state-of-the-art treatment can provoke shock and nervous laughter among our medical professionals. Here's Madame Recht's "hair-raising" nasal spoon-feeding technique, which looks like a
neti pot
: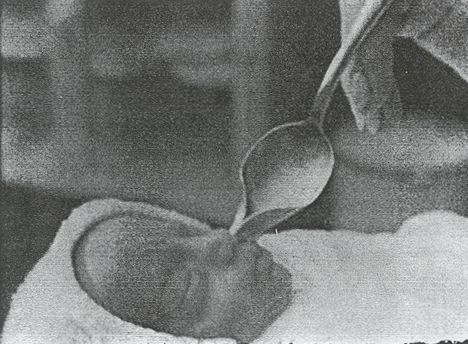 full reprint and photos: Silverman, W.A., "Incubator Baby Side Shows," Pediatrics, Aug. 1979 [neonatology.org via wmmna]