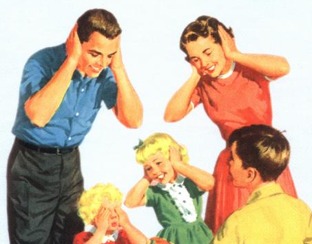 Seriously, when she was a young parent did she ignore her kid all around town while chatting on her Blackberry or her iPod or her iPhone all day? She most certainly did not. And another thing--well, technically several:
Count the steps as you go up or down. My twin grandsons' math skills flourished long before they could speak in sentences because they live in a third-floor walk-up. At whatever age your children start talking, let them know you are interested in what they are saying by repeating and expanding upon it and asking them to repeat what they said if at first you do not understand them.

Ask questions that require a choice, like "Do you want milk or juice?" or "Do you want to walk or ride in the stroller?" (An important aside: Too many city children are transported in strollers well beyond the time they can safely walk and run. Young children need to exercise their bodies as well as their minds. The theft of our stroller when our twins were 19 months old was probably the best thing that happened to them.)
Maybe if she'd Tweeted to the mailing list quicker, she could've gotten the stroller back.