This just in from the DT Mommy Mailbag:
Hey Greg - my client Bebe au Lait is introducing a really fun new collection of nursing covers for Winter/Holiday ~there are six new styles in the group which is part of their newly relaunched and whimsically named Hooter Hiders collection.

These come packaged in a lovely dust pouch, are made of a soft but durable 100% cotton and feature subtle ruffling around the neck and hemlines; a little bit of boning around the neck so that eye contact can easily be made with baby; and a convenient pocket.
First off, I know I'm out of touch, but is "whimsically" now one of those words like "gay" and "colored" that means something completely different from what it used to mean?
And call me old-fashioned, but I've always been one of those guys who thought there's just no way to improve on a Hooter Hider. Not subtle ruffling, not mariposa fabrics, not lifting your logotype from the Beverly Hills Hotel, nothing. Obviously, I had not considered the unrivaled fun that comes with a little bit of boning around the neck. I was wrong, and I apologize.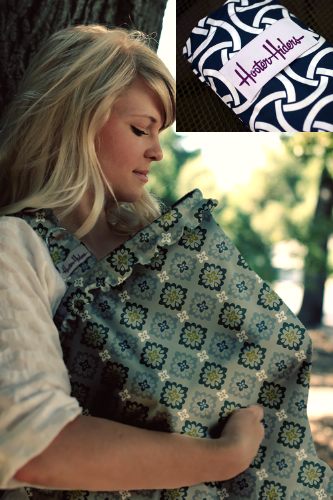 Watch your DVD player in broad daylight!
Bebe au Lait & Hooter Hiders - Nursing Covers for Chic Mothers [bebeaulait.com via publicist]