And that, my friends, is how you sell a bassinet in a depression.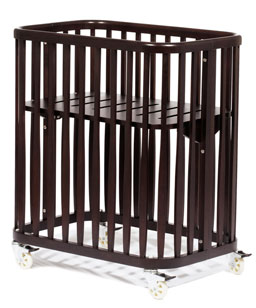 Argington just announced their newest, greenest, and cheapest nursery furniture ever, and I think it might just rock. The Bam Collection is available in birch or solid bamboo. It's simple, almost traditional, even, but it's got smooth, modern details, and I expect it has a nice, high-quality finish and feel. [The first chance to kick the slats will be in a couple of weeks at the ABC Kids Expo in Las Vegas, stay tuned.]
The Bam bed system is modular, so the crib actually starts out as a bassinet, which converts to a crib. Then there's a second, separate kit for converting it to a toddler bed. Which sounds needlessly complex, perhaps, but it's really a smooth pitch which reverses the kind of financial jiu jitsu that always haunts the discussion of buying a bassinet--an iconic, often expensive piece of baby furniture whose useful life can be measured in weeks.
The so-called Nursery Value Pack knocks the price of the bassinet [$359] plus the crib conversion kit [$329], down to the price of the crib itself [$585]. So really, you could just imagine you're getting a nice deal on a crib, with the bassinet thrown in for free. And that frees you up to argue over whether you need a changing table. [If I had to choose, I'd rather get the dresser, below].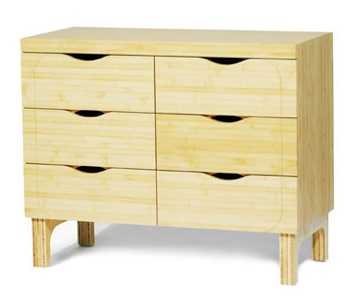 The lowest prices are for the two natural birch finishes--white and ebony, which really looks browner than black to me]. But I'm a sucker for bamboo, and even with a $200/pc. premium, it's still the best price I've ever seen for solid bamboo nursery furniture.
Anyway, it all looks sweet; Argington's even added a shopping cart to their website, so you can order it right now for mid-November delivery.
Argington's Bam Furniture Collection [argington.com via argington]