Even in the middle of it, I forget much of parenting is transmitting or recreating my own childhood for my kids.
We went to my grandmother's house, so the kid can rummage through the same coal-bin-turned-basement-toy-closet I used to; we put the same funky googly eye-looking sprinkler head on the hose so they can run through the water on the same lawn I did.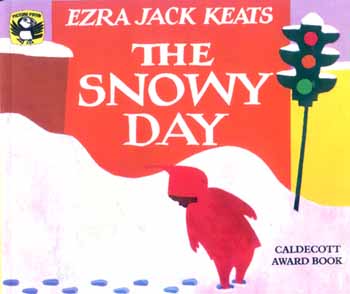 And while we were at my mom's house last week, I pulled out my old copy of Ezra Jack Keats' The Snowy Day and read that thing to K2 every night at bedtime. She positively ate it up. [She can't say words that start with "s" very well, so she transposes the name and asks for the "nose book."]
The Snowy Day is just one of those books that's so entrenched in childhood, it becomes invisible. We have a boardbook version at home, but somehow, flipping through an old hardcover copy made me sit up and take notice of how incredible Keats' artwork is. And how carefully crafted the story is.
And that's even before you realize how controversial the book was when it came out in 1962. Not only did Keats have a black, city kid as his main character, he shockingly treated it as the most normal thing in the world.
It's one of these quietly, awesomely revolutionary books--like Munro Leaf & Robert Lawson's Ferdinand and The Cat in the Hat and Where The Wild Things Are--whose awesomely revolutionary nature is completely lost on a kid. He only finds out about it after he grows up and starts reading those books to his own kid.
I think I'll dig into the history of Ezra Jack Keats and his work a bit this week and see what turns up.
Shop the entire Peter-related oeuvre on Amazon's Ezra Jack Keats author page [amazon]