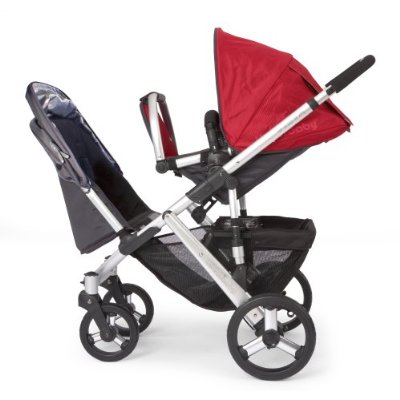 It's after May 2009, and you know what that means! The UppaBaby [oops, UPPAbaby] Rumble Seat is actually/finally available.
The Rumble Seat attaches onto the underseat basket, turning the Vista into a stack'em-style double stroller. Unlike the Phil & Teds' lower seat, the Rumble Seat faces backward. Also unlike the P&T, the Vista's main seat can switch, facing forward or back. My favorite setting is the one above, which looks perfect for either prone newborns, legless children, or parents who strap their kid in doing downward facing dog. [Pretty sure I'm kidding about at least the last one on that list, maybe the last two.]
Anyway, the only Vista that can accommodate a Rumble Seat out of the box is the 2009 model, so you'll want to confirm your mfr date before pulling the trigger. For pre-09 Vistas, UPPAbaby had talked about a retrofitting process that involves sending some cash and your chassis to their secret corporate hideout. See that discussion here.
Meanwhile, if you're ready for your Rumble Seat, Amazon has them in stock from Hip Baby Gear or several other, more experienced, higher-rated retailers like Magic Beans for $130 shipped. [amazon]
It's probably at a bunch of other retailers that don't automatically throw kickbacks my way, too. If you get one, drop a line.