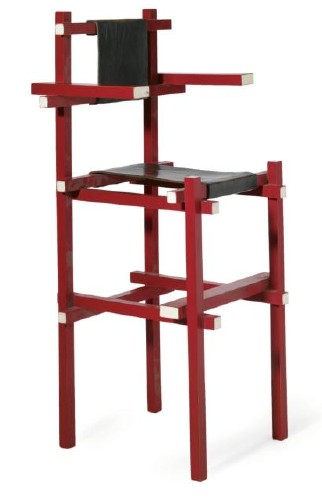 After he finished the Schroder House in Utrecht in 1925, Gerrit Rietveld turned over his furniture business to his assistant Gerard van de Groenekan, who produced the designs until 1971, seven years after Rietveld's own death.
Sotheby's Amsterdam is selling a 1920 Rietveld high chair made by van de Groenekan in the 1960s on June 16. It's a little dusty, and the white paint's rubbed off a few of the corners, but otherwise, it looks like it's in pretty good shape.
Lot 239: A CHILD'S HIGH CHAIR, GERRIT TH. RIETVELD (1888-1964)
FOR G.A. VAN DE GROENEKAN
DESIGNED 1920, EXECUTED 1960S
EST. 2,000--3,000 EUR [sothebys.com]
Previous overanalysis of Rietveld's high chairs, play tables, kid-sized crate chairs, suspiciously similar high chairs by other designers from Utrecht, and awesome, modern dad-made versions here.