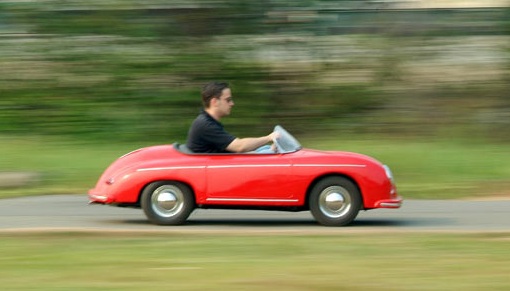 That ticking sound you may have heard is the New Depression's 24-hour timer here at DTHQ, which begins counting whenever I find something awesomely ridiculous to post about. If I can still overcome the subject's inherent Bubble Era insanity when the clock hits zero, up it goes.
So without further delay, I'll just point out that in addition to mini-Vespas, reproduction chrome bumper sets for the Isetta, seat covers for Citroen 2CVs, the Viet-British specialty car parts manufacturer Group Harrington also makes mini-Porsche 356's. And it looks freakin' awesome.
The little Speedster, faithfully molded from composite with a composite chassis, accommodates engine upgrades, so you won't have to buy a new one when your kid outgrows the 50cc starter engine.
I can't help noticing, though, that in every single picture on Harrington's site, the person sitting in the mini-Porsche is an adult, and in all but one shot, it's a guy. Just sayin'.
Harrington Junior - Porsche 356 [groupharrington]
Kids get stuck with the mini-Bugattis: Harrington Junior Action Shots