Alright, this is like five kinds of freakin' bamboo awesome all in one.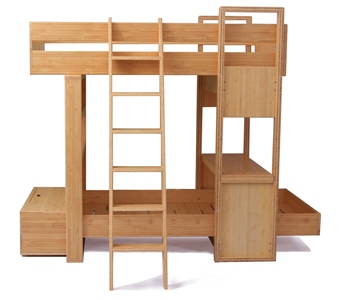 Argington is one of the half dozen kid-related design outfits participating in the BKLYN DESIGNS festival this weekend in DUMBO. [The others are Boo-Coup, Casa Kids, Hugh Hayden, Iglooplay, Oeuf. Boo-Coup's new to me, and Hayden, too, I have no idea.] All the kid-related exhibitors are located at Jane's Carousel at 56 Water Street, a few doors down from the grownup side of the show at St. Ann's Warehouse.
But anyway, back to the bamboo insanity. Two things: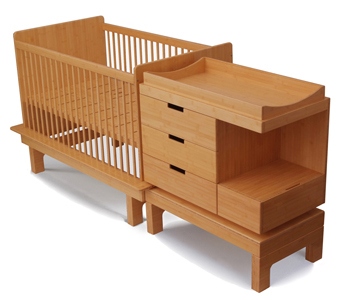 Argington is holding a raffle this weekend, with gross proceeds going to the American Cancer Society. The prizes are one-off, solid bamboo versions of their Sahara crib and Delphi changing table [the ones whose bases interlock in a most wonderful way, retail value: $3,300] and their Uffizi bunk bed with a Fuji toybox [value: $4,600]. These things look fantastic. I want to set the bunk bed up in my living room, just to look at it. Tickets are $10 each, and are on sale at Argington's space. Winners will be announced on the last day of the show, Sunday, May 10 at 3pm.
But that's not all. There's also the Argington Traveling Museum. The what?? you say? The Argington Traveling Museum. It's a limited edition [20], solid bamboo valise that contains meticulous little scale models of the children's designs the company has created over the last six years. The valises will be given away for free to the first 20 folks who order $2,000 or more at BLKYN DESIGNS. Or to the first 20 people who pony up $1,000 for a valise. Or to whatever combination of the two clears out the valise truck first.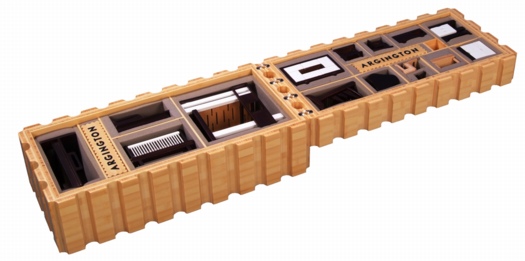 If there is a crazier, awesomer piece of kid's design expo swag to be had on God's Green-Design Earth right now, I confess, I don't know what it is. But if you've got a nursery wad to blow in DUMBO this weekend, it could all be yours.
BKLYN DESIGNS runs from May 8-10 [blkyndesigns.net]
Argington and the American Cancer Society [argington.com]
How to get to $2,000? Sahara crib + Delphi changing table = $1,480, so you'd need to add a bookcase, or some play furniture and/or bedding. [argington]
At $1,850, the regular Uffizi bunk bed puts you practicallythisclose [argington]
update: Apartment Therapy has a photo of the bamboo bunk bed, plus a couple of Roberto Gil's sweet loft bed deal for Casa Kids.