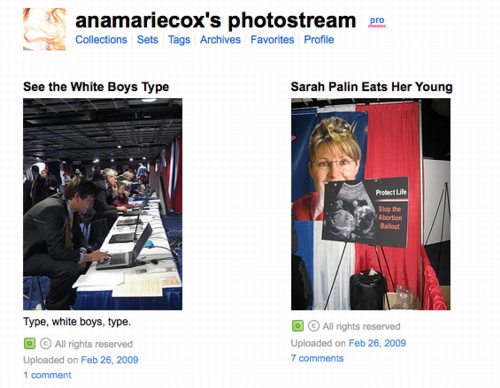 So I'm watching Ana Marie Cox's flickr stream fill with photos from CPAC, the Conservative Political Action Conference, and I'm like, "Dude! I known that parking garage-turned-exhibition-hall! It's right down the street!"
Sure enough, the same hotel that was filled with anime fans and cosplay fanatics was now filled with dressed up armies of enthusiastic young nerds from the margins of society, gathered to worship fantastical superheros.
If it's anything like Katsucon, I thought, they must have some great baby swag. And so it was that Friday after lunch, K2 and I headed off, sippy cups and blog business cards in our respective hands, to cover CPAC. Alas, the only similarity between an anime convention and a conservative activists convention--besides the venue, the nerdiness, the prominent display of weaponry, the living in a hermetic fantasy world, and the untethered hero worship--was that I was under-dressed.
"You're covering CPAC?" I shouldn't have underestimated the media coordinator's surprise as she keyed in my info.
"I'm looking for cool baby gear; I thought maybe the booths in the exhibition hall..."
"Hmm, maybe they'll have some toys or something," she replied.
"And then there's the booksigning about the destruction of masculinity," Though not dumb enough to mention I'd seen a picture of Sarah Palin devouring an ultrasound baby, I knew I was still sounding like an idiot. And anyway, K2 would never make it until 2:00, and I'd never get to meet Kevin McCullough anyway. Frankly, the media rep didn't know what I was talking about, and didn't really care.
"Great speech, Newt!" she suddenly blurted out, and I turned just as Newt Gingrich strode by, not breaking stride as a college kid hugged him with one arm while extending the other to take a classic "Newt and Me" shot with a digital camera.
The media rep gestured to the room behind her, "There's Diet Coke and water in here, and the exhibition hall is just down these stairs, to the right." I thanked her, and immediately headed left, to the elevators. "Stroller," I explained, trying not to look like I was rejecting her helpful advice.
"It is so nice to be in this...cocoon of sanity," said one lady to her friend as we all waited for the elevator.
The door opened. "Now that's a Young Republican!" said a man in a blue blazer and khakis, as I maneuvered K2 and her Bugaboo into the small car.
"You have to start'em young!" said his female companion.
Determined not to be either a dick or a liar, I smiled and came back with, "That's how they got me!"
The media rep was right; there was almost no swag, and basically nothing besides books and DVD's for sale. The few t-shirts for sale--the murderous, skull-faced Che Guevara was a standout--only came in adult sizes.
After explaining my quest for baby gear to the friendly NRA rep, I signed up to be notified about updates to their blog--I'm sure they won't use the email for anything else--I got a wonderful, giant tote bag that...could be used for a diaper bag? she helpfully suggested.
"Have you seen anything for kids or babies? An NRA sippy cup, maybe?"
Nervous laughter, "Oh, that'd get them going." Suddenly I felt bad that my idea of interesting baby gear was conservatives' idea of a PR headache.
"You can never start the gun safety lessons too soon, though, right?"
She was not going there.
"Have you seen anything else around? Maybe some toys or something? A plush Limbaugh?" [OK, I didn't actually say that last one out loud.]
"I think I saw some squishy balls, you know, like stress balls, yesterday, but they're gone."
Hmm, that's telling. I thanked her for my bag, surfed through the rest of the booths. On my way out, I ran into Stephen Baldwin, who was much thicker than expected, and then Joe the Plumber, who was much thinner than I expected. Not a bad haul for a half an hour.
On the way home, the diaper bag-to-be was feeling pretty floppy and useless. It was too big, and rooting around inside it was too tough. I decided to have the woman sew it up and make a changing pad out of it. The woman was, unsurprisingly, having none of it, so I had to make it myself. The photo tutorial will follow tomorrow.