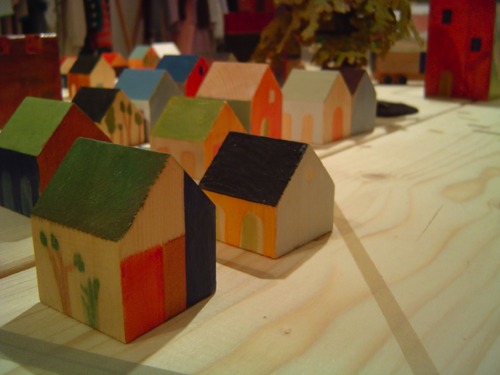 Chigo is one of our absolute favorite baby stores in the world, which is too bad because it's in Tokyo, and we haven't been for a while.
Which means we missed the veritable Nakabanpalooza they held last November. I stumbled across some custom-painted Gochi wood block houses [normally, just one side of the roof is painted, and the rest of the block is unfinished]. And when I started digging to see who the artist was, I realized that this "nakaban-san" guy is a celebrated illustrator who's published a shelf full of books and a pile of album covers to boot.
And Chigo exhibited nakaban's paintings, commissioned a book for their parent company, Landscape Products, and held a paint-in with nakaban as part of a program titled "The Usual Corner in a Dream [Yume no naka no itsumo no michikado]."
Nice stuff, surely all sold out in about ten minutes, but nice stuff nonetheless. Surf through Chigo's November blog archives to see what we all missed.
See nakaban-san's blocks and a sweet crate here: 「夢の中のいつもの街角」 [landscape-products.net]
Nakaban mania starts around 11.11.08: Chigo Blog - November 2008 [blog.chigo.co.jp]