Hell yeah, you're a guido, and f-in' proud of it, bitch. An' your kid's gonna grow up just like his old man, summers on the Shore and what not, you gotta problem withat, go back to the f-in' city. The only prollem worth discussing right now is what to get the little man for Christmas. He's too young for protein drink and his stocking's already full of bronzer and hair product.
The artists at Cervini's Auto Design humbly suggest the Lil' C500. They take a stock Power Wheels Ford Mustang from Fisher-Price and give it the special Cervini's touch. The emphasis is on authenticity. The Lil' C500 includes a "C-Series hood, side exhaust, rear spoiler, racing stripes, interior accents and more."
At $499.95, it adds about $200 to the sticker price of a Pony from the Fisher-Price lot. But look at it another way: it's less than a quarter the cost of this exquisite 2000-2004 Ford Focus body kit.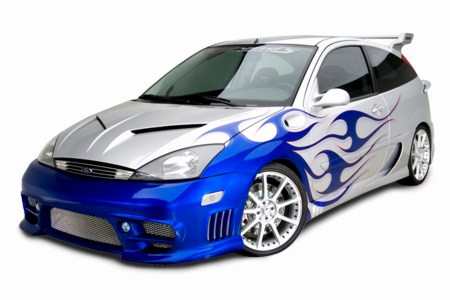 Lil' C-500 | Kids these days have all the fun! [mustang50magazine via dt reader dt]
Cervini's: Insist on the best, the difference is the FIT! [cervinis.com]
Buy the Power Wheels Ford Mustang from Fisher-Price for between $269-338, though shipping charges level out the total price [amazon]