Uh, wow. I can understand how tough it must be to sell a rebranded Chrysler Town & Country minivan as an actual, German car. " But if I were in Volkswagen's marketing department, I probably would have gone the, "Technically, when we started this project, it was called DaimlerChrysler," route.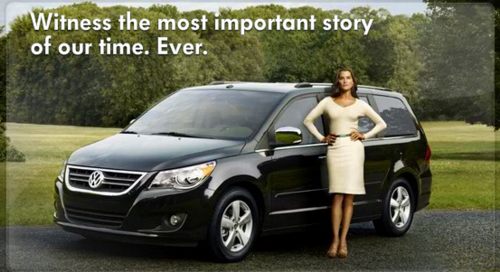 Instead, they went with the classic "'Won't you help?' infomercial parody, only instead of starving babies, the crisis is people having babies in order to justify buying a Routan-load of 'German engineering,' and it doesn't star Sally Struthers, but that other noted sitcom actress/humanitarian, Brooke Shields" route. Sorry, VW, but we've seen it all before.
They do get credit for the VW Routan Babymaker 3000, which automatically breeds two headshots to make a single, animated babyface. It's a marked improvement over the buggy Babymaker 2000. So thanks, VW. Your minivan's still a Chrysler, though.
VW Routan | Witness the most important story of our time. Ever. [vw.com/routan]
VW presents the Routan Babymaker 3000 [babymaker3000.com, thanks dt reader sara]
Previously: VW Routan: "Genuine Dick Ship" to debut at Chicago Auto Show