In fair Utrecht where we lay our scene...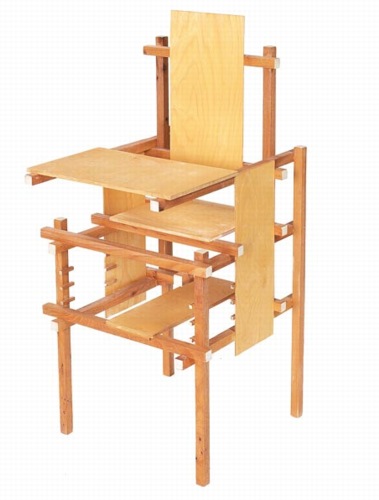 I'm trying to clear the deck of reproductions of painful-looking De Stijl high chairs here. In 2005, Treadway-Toomey sold this high chair for $1,200. It's by Piet Klaarhamer, a "later production of a 1918 design," by Houtbedrijf Veldzicht [Wood Industry or Woodworkers Veldzicht, maybe?] "signed with stamped mark" and everything, so presumably it's not a misattribution.
Because that chair sure looks a lot like [one of] Gerrit Rietveld's high chairs of the exact same era According to his Dutch Wikipedia page, Klaarhamer was Rietveld's teacher for more than eight years and introduced him to international modernist design trends. Though who got involved first in the hometown favorites of De Stijl is not clear. Until I hear from someone who's been through the Rietveld archives of the Centraalmuseum, I'll just assume that in Utrecht in the teens, De Stijl was The Style, and everyone knew it.
Lot 884. Piet Klaarhamer high chair, est 1200-1500, sold for $1200, Sept. 2005 [treadwaygallery.com]